Malware has gotten a lot smarter in recent years, and they have evolved from harmless annoyances to malicious invaders that steal your data and identity . Being exposed to malware is as dangerous as letting a burglar loose in your backyard – a disaster waiting to happen. One moment you are browsing your favorite websites and the next, utter panic ensues. Your computer starts to malfunction, your data gets stolen, and your e-banking credentials get sold to pirates half the world away.
To protect you from these scary scenarios, security software have evolved with new detection tools, surrounding Windows with a variety of shields, countermeasures and roadblocks to defend your data when the bad guys strike. These complex security software have become heavy deadweights, dramatically slowing computer performance and consistently interrupting you with prompts, questions and alerts.
Not Bitdefender Internet Security 2015, the only anti-malware ninja that gives users absolute protection- stealthily and easily thanks to OneClick Security™. And you can it try it three months for free if you download the trial version from Softonic .
A stealthy and deadly anti-malware ninja
What is an antivirus these days? Clearly, it's no longer a simple scanner. Antiviruses have become a complex set of tools that act in concert to provide security against an ever broadening circle of dangers, be it keyloggers, phishing websites or government rootkits. Orchestrating all these defenses into an easy-to-use package is an extremely challenging task.
Bitdefender Internet Security is exactly what a modern antivirus should be: Lightweight and Smart. Computer security should be simple, and Bitdefender has managed to offer the seemingly impossible ´one-click to total security´.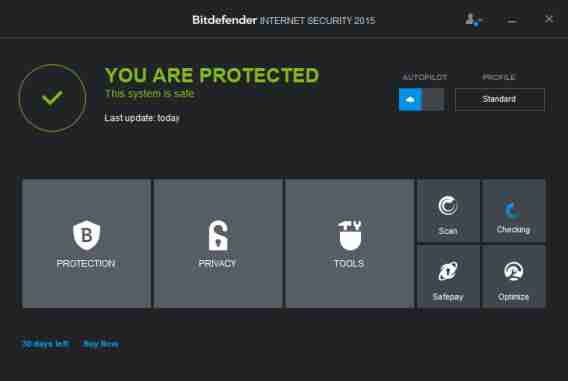 Bitdefender Internet Security never bugs you with unsolicited optimization requests or persistent upgrade offers. Working tirelessly in the background, the simple interface conveys a single message: 'You are protected'.
But simple does not mean less effective. Bitdefender's antivirus technology has consistently been awarded the best ratings in the AV-Test and AV-Comparative independent tests.
Not just function, it's also about great design
Today´s virus protection is no longer a run-and-forget process. Antivirus software act like young children, bugging you with endless questions: "Should I do this", "Could we do this?". But because we are so busy browsing, working and playing, we barely have the time to answer all their questions. So instead of being a reassuring presence, Antiviruses often turn into the direct opposite: an enormous nuisance.
Bitdefender Internet Security never ever bothers you. In most situations, you won't have to respond to any pop-ups or make any decisions. The Autopilot mode intelligently picks the best settings for each situation, and automatically adapts the amount of system resources it uses to ensure that the Antivirus does not get in the way of the computing experience.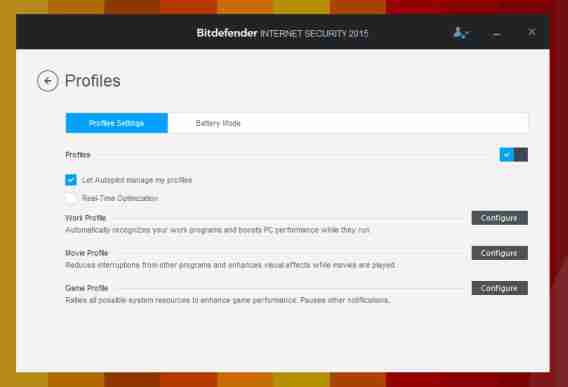 User profiles let you pick specific scenarios. For example, 'Movies' turns off notifications and scheduled scans while you watch videos, and 'Game' take the stealth even further, so that nothing will distract you while you are immersed in a Starcraft match or dealing fatal blows to a dragon in Skyrim. Feeling lazy? Autopilot can even take care of the profile switching for you.
Stop worrying about data theft
Another great feature of Bitdefender Internet Security is Safepay, a feature that provides a safe environment for you to carry out transactions of any kind, without the fear of having your data stolen. It's like a special browser loaded in a protected sandbox, a memory zone that no other application can access without Bitdefender's permission. Everything that happens in Safepay stays in Safepay.
Using Safepay is like enclosing yourself in a bank vault, you even get a virtual keyboard at your disposal to prevent any program from reading your keystrokes (a common malware tactic called keylogging ).
Safepay integrates with Wallet, an encrypted data manager for Chrome, Firefox and Internet Explorer, that lets you store passwords, credentials and online banking numbers. Bitdefender guarantees that no virus will be able to break through the lock. Once you spend some time to set it up, your days of keeping critical records in an unprotected text file will finally be over.
Protect your children from cyber-threats
Bitdefender Internet Security comes with all the security extras you'd expect from a premier suite. The two-way firewall, coupled with Intrusion Detection, simplifies the control over your network, ensuring that no suspicious program sends out data without your consent. This is especially important when fighting against remote control malware (RAT).
Then there's also the excellent vulnerability scanner that checks for outdated and vulnerable versions of the most commonly used software installed on your PC, such as Adobe Reader and Java, and provides links to the latest versions. Vulnerabilities are a popular gateway for malware to get into your computer, and having Bitdefender consistently checking for updates frees you from the important, yet tedious, chore.
Last, but definitely not the least, Bitdefender Internet Security offers excellent parental controls and Facebook protection.  The theme of simplicity also extends here- Just enter your childs age and gender, and Bitdefender will restrict access to online games or web browsing during homework hours.
System optimization made simple –Finally!
System optimization is an important part of Bitdefender Internet Security. Bitdefender will never interrupt you with complex messages about the performance of your PC.
The OneClick Optimizer removes junk files and Registry errors in a single sweep. It's fast and effective, and it only shows the most important figures. Like the rest of the suite, OneClick doesn't need to impress you with fancy graphics or complex reports, it just does its job in the quietest, most effective way.
Another intelligent tool is the Startup Optimizer, which measures total boot time and shows the potential gains (in seconds) as you remove program from the startup list. The simplicity of this tool is a testament to the efforts that Bitdefender has put into its design.
The best user experience and the best security, all in one place
With Antivirus companies creating increasingly complex and resource hogging software, Bitdefender has managed to craft one of the best security suites of 2015. You will be impressed by its performance and range of features, but above all, you will be delighted to use an antivirus that takes the user experience so seriously.