After the rather muted reception of the One M9 launch last year, HTC is back with a bang for 2016 with its brand-new HTC 10 . This flagship smartphone is better than ever, as it not only rectifies several of the One M9's mistakes, but its bold, new design also makes it one of the best-looking flagship phones that's launched this year.
However, with HTC now has strong competition, with both LG and Samsung launching excellent handsets of their own this year already. Putting the metal-and-glass Samsung Galaxy S7 to one side for now, we'll be comparing the all-metal bodies of the LG G5 and HTC 10 .
We're putting the phones head-to-head to see where their strengths and weaknesses lie. We'll be looking at the quality of their displays, their design, performance, battery lives and camera quality, helping you make the right decision on your next smartphone.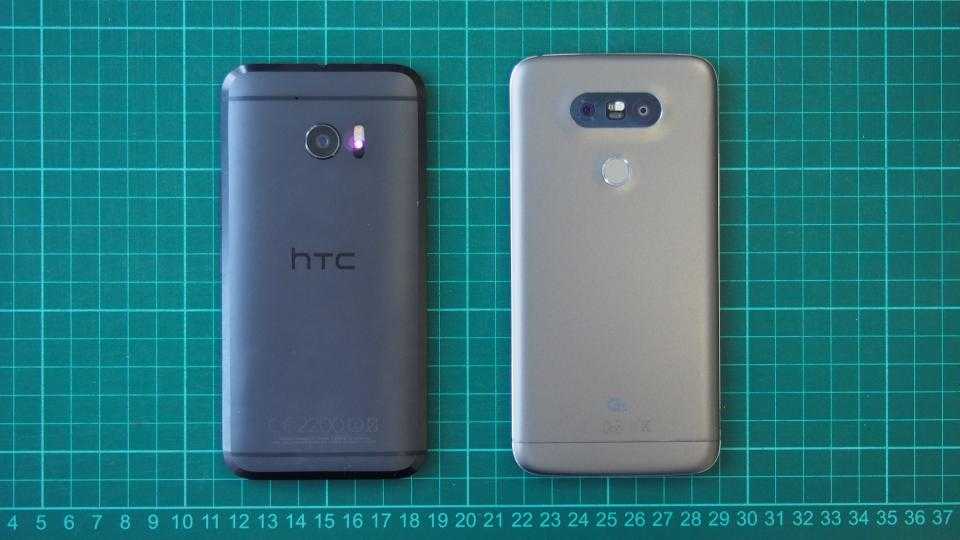 Design
Materials: The LG G5 has finally gone all metal this year, matching the HTC 10 in terms of overall build quality. However, it's clear which manufacturer is more skilled in making attractive metal handsets, as the HTC 10 has those beautiful chamfered edges that make the curved-off chassis of the G5 look positively dowdy by comparison. Both are easy to hold, though, and I don't feel either requires a case to make them more manageable when using them one-handed.
Features: The G5 might not be quite as eye-catching as the HTC 10, but its unique modular design does give it several advantages over the more traditional HTC 10. Press a small button on the left-hand side of the G5, for instance, and the whole bottom section will pop off, allowing you to swap out the battery for a new one or attach one of its G5 modules, such as the LG Cam Plus or LG Hi-Fi Plus. The former is a physical camera grip with proper buttons for the zoom and shutter controls , while the latter is a portable Hi-Res audio dock.
Of course, the modules themselves might not prove particularly popular in the long-run, but the ability to remove and replace the battery is arguably one of the most practical features a smartphone can have. With a spare to hand you can keep going for longer without having to worry about finding a plug socket, or having a portable charger dnagling from your phone. It also means you can replace the battery entirely if it starts to fade over your phone's lifespan.
One thing the HTC 10 isn't missing out on, though, is a fingerprint sensor. Unlike the G5's rear-facing sensor, the HTC 10 has one on the front which is incorporated into the home button – much like the Samsung Galaxy S7 . Personally, I find rear-facing fingerprint sensors a lot easier to use and unlock, but front-facing sensors will probably win out in the long-run, as they'll be easier to use with Android Pay once it finally launches in the UK. Trying to authorise a payment on an NFC reader, for instance, might prove tricky if you have to have your finger stuck round the back. For now, though, I much prefer the G5's fingerprint sensor, as it's not only easier to reach, but I found it was also more accurate.
Dimensions: The HTC 10 measures 146x72x9.0mm (tapering to just 3mm at its thinnest point) and weighs 161g , making it ever so slightly shorter and narrower than the G5, which measures 149x74x7.7mm and weighs 159g . In the hand, though, they feel exactly the same. The only thing you're likely to notice is the HTC 10's thinner edges.
Conclusion: There's no denying the HTC 10 is the more attractive smartphone in this case, the G5 is also a lot more practical. Its fingerprint sensor is more convenient, and its modular design gives you the benefit of a full-metal unibody design without losing the ability to replace the phone's battery. Ask which phone I'd rather put down on a table, though, and I'd definitely say the HTC 10, so let's call this one a draw.
Display
Screen resolution: The HTC 10 has a 5.2in display with a 2,560x1,440 resolution, which gives it a pixel density of 565 ppi . The LG G5 has the same resolution, but its display is a fraction bigger at 5.3in , giving it a slightly lower pixel density of 554ppi . In reality, though, you'd need some pretty sharp eyes to say one looks noticeably sharper than the other, so to all intents and purposes, both phones have equally crisp displays.
Image quality: It's a tight contest over which phone has the better quality screen as well. Both use panels based on LCD technology, but HTC's used one of its new Super LCD5 panels for the HTC 10, while LG's fitted the G5 with one of its Quantum IPS displays. This means that each one has a slightly different pixel structure, but the results really do come down to the wire.
For instance, we measured the HTC 10 as covering a massive 99.8% of the sRGB colour gamut, with an ultra low black level of 0.25cd/m2 and a contrast ratio of 1,793:1. This is super impressive for an LCD screen, especially after the One M9's screen was so poor.
The LG G5, on the other hand, covers a slightly smaller portion of the sRGB gamut, but still comes in at a highly respectable 97.1%. It has lower black levels than the HTC 10, measuring 0.19cd/m2, but it feel behind on contrast, as its lower max brightness level of 354.05cd/m2 meant the G5 could only produce a contrast ratio of 1,623:1. The HTC 10, on the other hand, can reach a peak brightness of 449.22cd/m2, allowing it to display more detail overall. Both displays are equally good, though, and colours look just as bright and brilliant regardless of which one you're looking at.
However, the G5 has a few extra features to help make up for its slightly lower test scores. For instance, it has a secret outdoor brightness mode to help pump up the screen's brightness when you take the phone outside in bright sunshine. When we shone a torch over its ambient light sensor, for instance, we saw an astonishing reading of 717cd/m2, making it almost twice as bright as the HTC 10. It can't sustain this brightness level for very long, mind, but at least it's on hand when you need an extra burst of clarity.
The G5 also has an Always On Display, which can permanently show the time, date and battery status while the phone's in sleep mode and the main display is turned off. This means you don't have to press the power button to simply check what time it is, and it doesn't put a significant strain on the phone's battery life either.
Conclusion: The HTC 10 definitely has the superior screen when it comes to quality, but the G5's always on display and extra brightness settings do give it an edge when it comes to overall practicality. In this respect, the G5 just nudges ahead of the HTC 10 for us, but there's no denying that both phones have truly top first-rate displays.
Performance
Processor: Both the LG G5 and HTC 10 use a quad-core 2.2GHz Qualcomm Snapdragon 820 chip this year, and each one comes with 4GB of RAM . However, our benchmark scores weren't quite as equal as you'd think given they use exactly the same specification.
For example, the G5 proved to be a lot faster in our main CPU test, Geekbench 3. I n the single core test, for instance, the G5 scored 2,325, while the HTC 10 only scored 2,022, and t he gap widened further in the multicore test, as the G5 scored 5,422 and the HTC 10 only 5,091. This suggests that the HTC 10's cooling might not be quite as efficient as the LG G5, but that certainly didn't stop the HTC 10 from pulling ahead again in our GPU tests.
In the offscreen Manhattan 3.0 test in GFX Bench GL, for instance, the HTC 10 produced 2,946 frames, equating to an ultra-smooth 48fps. The G5, meanwhile, only managed 2,844 frames, which works out to roughly 46fps. This is still a great score for either phone, though, and both are more than powerful enough to cope with whatever the Google Play Store can throw at them.
Storage : The HTC 10 and LG G5 both come in 32GB variations, but each one also comes with a microSD card slot that can expand your phone's storage up to 2TB, so you should have plenty of space for your files regardless of which one you go for.
Battery Life: The HTC 10 has a slightly bigger 3,000mAh battery than the G5's 2,800mAh capacity , but the results were pretty similar in our continuous video playback test. With the screen set to our usual brightness of 170cd/m2, the HTC 10 lasted for 12h 08m, while the G5 lasted 11h 10m.
However, when you take into account the fact that you can simply slot in another battery on the G5, you could theoretically get 22h 20m of video playback out of it if necessary, which is arguably more useful if you don't mind carrying another battery with you.
Conclusion: There's no denying the HTC 10 is a powerful phone, but the G5 wins this round thanks to its faster CPU speeds and replaceable battery.