The original Yoga 13 was one of our favourite convertible hybrids of 2013, but Lenovo's brand-new Yoga 2 Pro improves on its predecessor in almost every way. The Yoga 2 Pro's unique super-flexible hinge is back in all its 360 degree glory, letting you fold the keyboard behind the screen so that you can use the Yoga 2 Pro as a tablet. However, the Yoga 2 Pro's chassis is thinner and lighter than the older model, which means its much more portable and easier to use as a tablet. Indeed, the Yoga 2 Pro measures a slim 15mm thick when closed.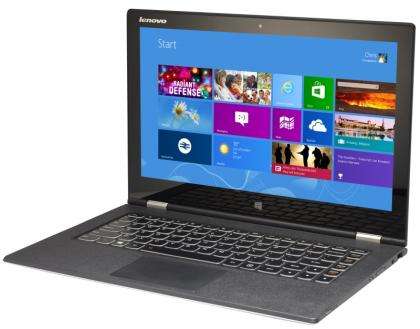 We're also happy to report that the Yoga 2 Pro's build quality has improved dramatically over that of the original Yoga. The flex in the keyboard tray that spoiled the Yoga isn't present, so the Yoga 2 Pro feels much more like a premium laptop, and the hinge remains as sturdy as ever. At 1.4kg, it's still a little too heavy to hold in tablet mode for long periods of time, and we found ourselves resting the Yoga 2 Pro on our lap or a work surface. Even so, we certainly welcome the 100g weight reduction. Connection ports are scarce, but there are two USB ports, one of which is UBS3, a micro HDMI output, an SD and MMC card reader and a 3.5mm combined headphone and microphone jack.
FIX UP, LOOK SHARP
Unlike previous Yoga models, the headline feature of the Yoga 2 Pro isn't its 360-degree hinge, it's the stunning 3,200x1,800 resolution of its 13.3in IPS touchscreen display. This is the same resolution as Samsung's Ultimate award-winning Ativ Book 9 Plus, and it means the Yoga 2 Pro's screen has a huge pixel density of 275 pixels per inch (PPI). That PPI is even higher than that of Apple's 13in Macbook Pro Retina display. Unsurprisingly, you can see a tremendous amount of detail on the Yoga 2 Pro's screen, and this much higher resolution is a great improvement on the old Yoga's 1,600x900 resolution.
The Yoga 2 Pro's screen has the image quality to match, too. With an sRGB colour gamut reading of 85.3 per cent, colours were represented evenly across all the major colour groups. Reds and greens were a little lacking compared to its strong blues, but it didn't affect our subjective image tests. All the solid colours looked bright, vibrant and evenly lit across the screen. Whites were very clean as well thanks to the screen's high brightness levels, but we were a little disappointed to see a black level reading of 0.47cd/m2. This is much higher than we'd normally expect to see from a laptop of this price, and it showed in our solid blacks, which appeared noticeably grey compared to the laptop's dark black bezel.
It's a relatively minor flaw, though, and thankfully the screen's contrast levels were more encouraging. We measured a great contrast ratio of 713:1 and all of our high contrast test images looked great. Some areas of dark shadow only appeared as simple areas of solid black in a few of our night shots, but on the whole images looked crisp and had plenty of detail. Thanks to its superb viewing angles, we could see the screen clearly no matter how far back we tilted the screen.
TIPPING THE SCALE Having such a high resolution does have some cause some problems, though, because Windows 8.1's desktop scaling technology is nowhere near as sophisticated as that of Mac OS X. Samsung managed to counter this problem on the Ativ Book 9 Plus by including its own software that rendered the Windows desktop at 1,080p. Sadly, Lenovo has included no such software with the Yoga 2 Pro, so you can't adjust the amount of space you have onscreen. Instead, the only way to control how the size of text is by adjusting the Display settings in the Control Panel. You'll probably want to increase the size to Extra Large, which is 200 per cent larger than normal, because text rendered at 100 per cent was almost illegible.
Windows 8's poor scaling affected the Chrome web browser when we used it in Metro mode, too, with text and icons looking tiny. They were so small that we had difficulty clicking the correct tabs and menu icons with our touchpad, let alone when we used the touchscreen. Thankfully, text returned to its normal size when we re-launched the browser in Desktop mode.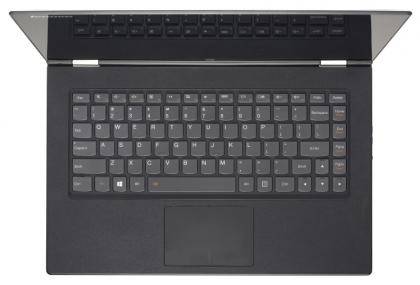 Scaling issues aside, we enjoyed using the Yoga 2 Pro for day-to-day tasks such as word processing and sending emails. The keyboard's springy keys gave a great level of tactile feedback and the Yoga 2 Pro's lightly textured soft-touch wrist rest was very comfortable and was a real boon when we used the laptop for protracted periods of time. The Yoga 2 Pro's smooth touchpad was also very quick and responsive when we were browsed through our files, and we had no problem performing Windows 8 shortcuts and multitouch gestures.