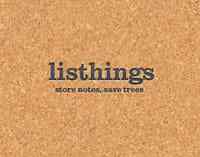 Listhings is a virtual online corkboard where you to pin and share your notes. A handy tool to note down important information on the fly, but also to work collaboratively.
Use your e-mail address to register to Listhings. The site has the appearance of a real corkboard, on which you can hang your notes, photos or checklists. You can drop your post-its anywhere on the page, and change their color.
Brainstorming: share tables
Create as many tables as you want, and find them organized as tabs at the top of site. Listhings allows you to share data with your friends or colleagues, via email. Ideal for brainstorming and information exchange in real time! And if you want to save your notes, you can download them in the HTML format.
Discover Listhings: https://pinuom
Original document published on CommentcaMarcheet.