The first 5G networks in the UK have gone live, heralding speeds in excess of 1Gbit/sec.
Network operators nationwide are lining up to provide the service, with EE, BT Mobile, Vodafone, Three and O2 each already having brought their services to dozens of UK cities, towns and suburbs. You can read more about the specifics of these launches, including their respeective 5G locations, on our " When is my network getting 5G ?" page.
While you might think existing 4G networks are already staggeringly quick, 5G promises to make them look anything but – and do the same for your home fibre broadband connection too.
Yet 5G isn't just about another speed-up for mobile internet. Rather, it's creating a new network infrastructure that can support the big technologies of tomorrow. It's going to help change how and when we access the internet, and impact industry, media, transport and more. 5G is a very big deal.
What is 5G?
The promise of 5G in the UK has been years in the making. In March 2017, the British government published its 5G strategy in which pledged to work with industry and public bodies to identify projects and committed to increasing access to spectrum for "the most innovative 5G services."
While we've been talking about 5G since long before that – since 2013, to be exact – the mobile telecoms industry standards group (3GPP) only finalised the proposed 5G standard last year. It comes in two variants, with a non-standalone version that uses components of the existing LTE mobile network and a standalone version that uses all-new components. The idea with both is to improve on the performance and efficiency of existing 4G networks while adding new features to support future needs.
Qualcomm, Huawei, Intel, Ericsson, Nokia and others have been working on the radio standards and network hardware that support 5G, while the world's mobile network operators have been working with them to trial and – eventually – roll out 5G services.
READ NEXT: Best 5G phones
In the UK, Ofcom has already auctioned bands of the radio spectrum for use by the big four network operators ( O2 , Vodafone , Three and EE ), with the companies rolling them out throughout 2019. The first commercial services from EE, BT Mobile, Vodafone and Three are already in place, with O2 planning to roll out the service in October . Meanwhile, several handsets are 5G compatible, and rumours about an imminent 5G iPhone are snowballing.
We've rounded up the best 5G phones coming this year, as well as when the different 5G networks are launching in a town near you if you want to know more about those upcoming networks.
The key thing about 5G is that it's designed to support a wider range of devices. It will go beyond smartphones and tablets to serve PCs, laptops, media devices, drones, driverless cars and a whole bunch of Internet of Things (IoT) devices, from intelligent lighting and heating systems to smart, connected industrial machines. It should make it easier and faster for these to connect both to the internet and to each other, potentially transforming the way conventional networks work altogether.
How fast will 5G be?
The actual specifications are relatively vague, but where current 4G speeds reach up to 100Mbits/sec – and faster Gigabit LTE networks can reach around 1.2Gbits/sec, 5G speeds should start at 1Gbit/sec and go up to 50Gbits/sec. Needless to say, these are theoretical maximums, but the results in early tests and trials are already impressive. EE has hit 2.8Gbits/sec in lab conditions and 1.8Gbits/sec in trials, while Three Hong Kong has reached download speeds of 3.2Gbits/sec in trials.
Ofcom expects real-world speeds of between 10Gbits/sec and 50Gbits/sec once the technology matures; even at the lower end you're looking at downloading a 100GB 4K movie file in just over a minute and a Blu-ray-quality full HD movie in under 20 seconds (and much less with higher levels of compression).
That's not all where speed is concerned, though. 5G networks should allow upload speeds measured in GB/sec and – more excitingly – latencies as low as 1ms. This last figure is important, as it's a measure of the delay between an app or service requesting data and the network responding to that request. This might seem like a small point, but it makes a massive difference when you're using it for things where split-second timing is critical, like operating autonomous vehicles, performing remote surgery or editing live video footage from a remote location.
When will 5G arrive and where?
The UK's first 5G services have launched and are detailed in our 5G networks in the UK hub.
READ NEXT: When will I be able to get 5G?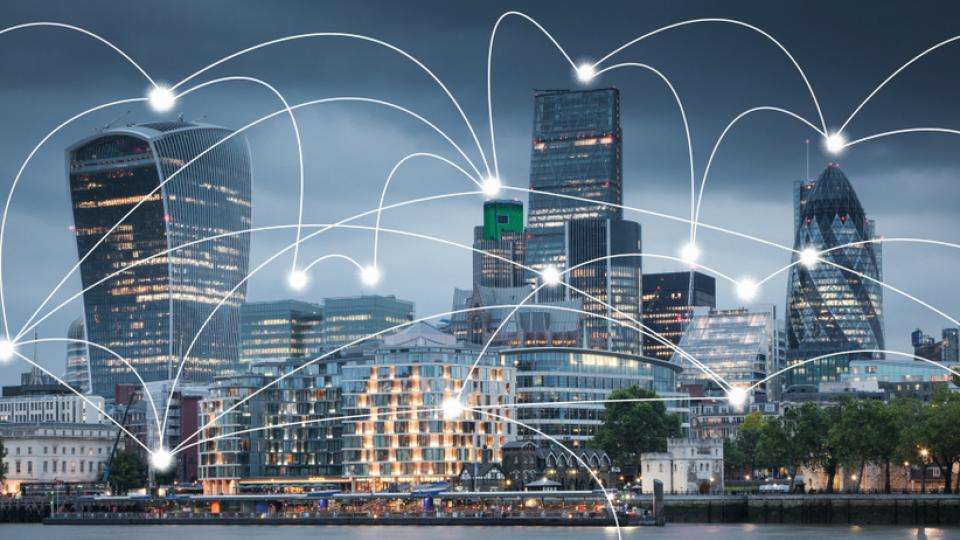 Which 5G smartphones are available in the UK?
You can read more about the 5G phones launching in the UK here.
Samsung, Huawei, Honor, Xiaomi and OnePlus have already committed to releasing 5G smartphones this year, and we'd be surprised if Sony, Apple and others didn't follow suit.
And don't forget: 5G won't be restricted to smartphones. 5G routers and network access points are also on their way, allowing those who'd normally struggle to get high-speed fibre broadband to access something even faster. For example, Vodafone recently announced a 5G broadband router for people who can't get decent internet speeds, or want separate networks without the landline. In the 5G future, we might even regard a landline as the inferior option for getting online.
How will 5G change the world?
There are already over 17 billion devices connected to the internet, with 7 billion of these now IoT devices. By 2025, the number of IoT devices is expected to reach 22 billion. These devices currently run across smaller, more local wireless networks, but many believe that to reach their full potential they'll need access to a faster, lower-latency global network, that will bring them together with cloud-based services and help us do amazing things with technology.
Some of these we can predict, like driverless cars, remote surgery, autonomous trucks, drone deliveries, augmented reality displays and more effective wearable devices. Yet the most exciting applications could be those we haven't yet thought up. 5G could also enable us to do a greater amount of clever computing remotely, using online servers to power mobile games consoles and VR headsets, or use artificial intelligence while on the move.
If you think this sounds a bit pie-in-the-sky, it isn't. In Sweden, Ericsson, Einride and Telia have already demonstrated autonomous transporter trucks managed from a central operations centre using 5G links. Meanwhile, EE has put it to good use broadcasting live events, using 5G to transmit Wembley Cup Final footage direct from the cameras to a remote production team for editing and online distribution. By making live broadcasts more efficient while lowering costs, this could help broadcasters cover smaller events or deliver more comprehensive coverage of bigger ones. This really is just the start.