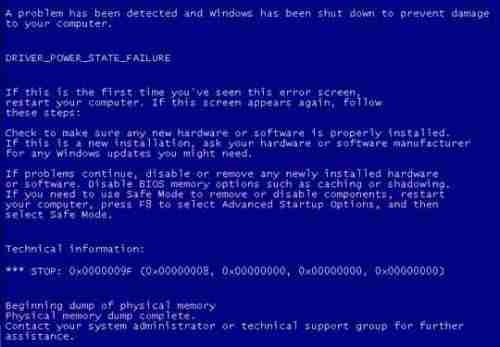 Individuals can face various problems with their PCs. One of the problems could be a blue screen appearing when shutting down your PC with an error message. The problem will more than likely be related to the driver of the device. The processing can also be done through a filter driver of a file system, like a driver installed by an antivirus. People must keep an antivirus on their device to fight viruses and these types of errors. Some of the brands suitable for Windows are Norton and Kaspersky for example. The user may be to uninstall the software and re-install it to solve the problem.
When shutting down your PC, a blue screen appears with the following error message:
STOP 0x0000009F DRIVER_POWER_STATE_FAILURE
This error may be caused by a device driver, but it can also be processed by a filter driver of a file system (such as a driver installed by an antivirus, remote access or backup programs).
Symantec products are regularly involved (Norton Ghost 9, Symantec PC Anywhere), and even some anti-virus (Kapersky).
Solution:
Try to uninstall the software.
Check recently updated drivers.
If the problem persists it may be due to your power supply.