It's safe to say that we're spoiled for choice when it comes to choosing an antivirus to protect us from the abundance of harmful programs out there. Most of them are great at doing what they do, but as many users refuse to pay for the privilege, certain programs are looking for something else to get out of us – ironically putting us into more danger.
Here are three tricks that antivirus providers use to benefit from you:
1. Browser add-ons
It's extremely common for an antivirus, when installed, to add extensions to your internet browser. They'll promise you safer navigation, but the truth is they're just doing it for their own benefit, and these extensions are more likely to expose you to an online attack. Ironic, isn't it?
As you can see above, browser add-ons such as AVG promise you the perfect security when surfing the net, however in 2015, a researcher at Google revealed that this particular extension was adding a large number of APIs within the JavaScript, many of which were broken. This means that the browsing history is exposed, and leaves your browser open to security breaches. Although this particular case was shortly amended by the company, it just goes to show what the others on the market are capable of.
What to do:
Don't agree to install the extensions during the antivirus setup. They have nothing to offer that your current browser doesn't already offer in terms of security. If you have already downloaded some, simply go to the extensions page on your browser and remove them.
2. Beware of "free" antivirus programs
Sometimes, the cheapest can turn out to be the most expensive in the long run. As far as antiviruses are concerned, the majority of ones that are "free" will come with adware, spyware, toolbars and so on. Although the companies don't do it with bad intention, it is an attempt for them to make a bit of extra money through advertising and tracking your internet activity. They've got to make money somehow, right?
But, exactly how are they benefiting?
They can change your default search engine : This way, the creators of the antivirus can benefit by click-advertising in their results page.
They can change your home page: Companies can pay a lot of money to appear as your homepage – most of you will have witnessed this already.
Junkware: Additional programs may be installing themselves if you don't pay attention during the antivirus setup.
Tracking: Some antivirus programs will be tracking your internet activity and collecting your personal information which they can then sell to third parties.
If you don't want to pay for antivirus software, we can recommend the following free versions:
Windows Defender : It comes bundled with Windows 10 and you can't really go wrong by "keeping it in the family."
BitDefender : Rings very few alarm bells during the installation process.
Avast : Although it will prompt you to install some add-ons, you can choose not to.
AVG : This program has vastly improved since its early mistakes, just make sure to check all options before completing the setup process.
3. Don't trust the ones that scare you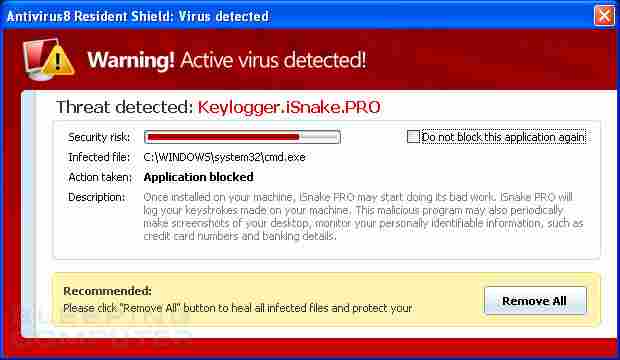 How many times have you received an email or a pop-up telling you that "your system is infected" or "Virus has been found", etc?
It's more common to be exposed to these when browsing small, lesser-know sites, who tend not to care where the money for advertising is coming from. Some of them may be legitimate, but the fact is, most of them are not. These programs will steal your information and sell it on to third parties.
So what can you do to prevent them?
Simply don't click on them. It might sound like common sense, but these companies are still making money from people installing their software. If anything is telling you that your computer is in danger, or that they've managed to scan your system in record time without you clicking a thing, it's more likely to be untrustworthy. It's simple – just don't bother risking it!
If you're looking for a reliable antivirus, don't miss out on our 2016 antivirus comparison right here!