Android devices used to lag behind iOS when it came to games but that's rarely a problem now. Yes, some games do hit iOS first but Android versions are now the norm rather than the exception and you'd have to be a seriously dedicated mobile gamer to get through even a fraction of what's on offer on Android today.
Whether you have a tablet or smartphone, and whether you like to play in five-minute bursts or four-hour marathons, there's something for you here. You'll find some of the best games to play in 2019 in the top of half of the article and some of our long-term favourites nearer the bottom.
There's a healthy mixture of free-to-play and paid games on this list but bear in mind that the vast majority of free mobile games contain optional micro-transactionswhich can range from mere pennies up to hundreds of pounds. We used to prefer to purchase games, complete them, and move on rather than grind away at repetitive 'freemium' apps, but the quality of free games from independent developers has vastly improved in recent years. If you've only played free games in the past, however, then try splashing out a few quid; you'll be amazed at the variety and quality on offer in Google Play if you're willing to spend a little money.
READ NEXT: Best Xbox One games 2019
Best free-to-play Android games in July 2019
Fortnite - Free
We'd be remiss not to include Fortnite on this list. A global phenomenon and household name, Fortnite is an incredibly popular battle royale game that helped the genre reach true mainstream popularity. Developed by Epic - known for Unreal Tournament, Gears of War and creating the Unreal Engine - the game drops players on a colourful and dangerous island filled with 99 other people, all with one objective: to be the last player standing.
Taking inspiration from Player Unknown's Battlegrounds, Fortnite puts its own spin on the battle royale genre with intense third person combat, unique building mechanics and a dizzying amount of customisation options. If you're considering jumping into the battle royale craze, Fortnite is an easy choice to start with.
The Elder Scrolls: Blades - Free
If you're looking for an Elder Scrolls game to play on the go then Skyrim for Switch is the obvious first choice. For mobile users, however, Elder Scrolls: Blades is a good alternative. Playing as a former member of the Blades, a legendary group tasked with protecting the Empire of Tamriel, you find the organisation in tatters and yourself hunted at the end of the Great War. Returning home, you must rebuild and fortify your town in three separate game modes: Abyss, Arena and Town.
Abyss offers a roguelike game mode, tasking players to explore an endless dungeon while completing quests, finding new gear and gaining experience. Arena is a space for PvP and Town serves as a hub area, where players can explore the town, receive quests and interact with NPC's. All three modes form to create a bite-sized Elder Scrolls game that any fan of the series will enjoy.
Infinity OPS - Free
Formerly (and very briefly) known as Destiny: Warfare, this epic multiplayer shooter from AzurInteractive Games has been forced to change its name. Infinity OPS: Sci-Fi FPS isn't nearly as catchy, but it's also not nearly as copyright infringe-y as Destiny: Warfare. Thanks a lot, Bungie! The original title for Infinity OPS gives you a clear idea of the setting, aesthetic, and gameplay style the developers were going for, and they've been largely successful in replicating the frantic action and awesome space settings of games like Destiny and Halo.
You'll do a double take at the high-quality graphics and smooth gameplay mechanics — but if you have a low spec phone, then fret not, because Infinity OPS have optimisation settings for phones with low technical characteristics; the game won't look as good, but it will play just as well. The range and depth of the gameplay is impressive for a mobile shooter, with three standard multiplayer options, custom game hosting, clan creation, and extensive character customisation options. With different class types, low gravity maps, jetpacks, and colourful sci-fi scapes, Infinity OPS is the closest thing to Desinty or Halo that you'll get on a smartphone. There are no single player modes, unfortunately, but that's about the only downside.
Mr Gun - Free
Yet another addictive title from the prolific mobile games developer Ketchapp , Mr Gun is a simple tap to shoot game in which your character (first name unknown, surname Gun) shoots other gunmen, preferably in the head. You ascend a never-ending staircase, popping a cap at enemies as they appear on the level above you. The catch is that Mr Gun's aim is not as steady as it once was – his hand roves up and down constantly, meaning you have to shoot quickly when it's in an angle range that will hit the enemy. Miss your target, and it's their turn to shoot. And they always hit their mark. The one detractor from this simple and addictive game is theonslaught of advertisements whenever you win or lose. Happily, they actually became less frequent when we progressed further into the game, without us having to make any in-app purchases.
Player Unknown's Battlegrounds Mobile - Free
Forget Fortnite and Rules of Survival - PUBG is here! Lightspeed Quantum Studios has adapted its world-conquering Battle Royale game for Android, and you better have a lightspeed internet network if you want to stand a fighting chance. In huge 100-player warzones, players parachute into a free-for-all fight to the death, but if you choose Squad mode you can get backed by a small group of team members with whom you can chat tactics (or nonsense) via your phone's mic. Better yet, you can join forces with your mates for the ultimate squad experience.
Choose to be stealthy and stockpile a mass armoury of weapons, upgrades and armour, or charge into the fray with a machete in nothing but your underpants – it's up to you. Keep within the ever-shrinking play zone and kill enemies while avoiding the same fate; if you get knocked out in squad mode, however, you still have a shot at being revived before that final bullet finishes you off. The graphics are great, the controls fluid, and the interface is intuitive and easy to use. Although the default controller layout is far from perfect, every button's position and size can be rearranged in the main menu settings to fit your exact preferences.
Character customisation will take a while, however, unless you're willing to pay. Anyone familiar with the PUBG console or PC game will be able to jump straight in without so much as a tutorial, and many have claimed that the mobile version works better than it does on console! Player Unknown Battlegrounds Mobile is without a doubt the best Battle Royale game available for Android and, best of all, it's free.
Major Mayhem 2 - Free
The long-awaited (6 years, to be exact) sequel to the arcade shooter original, Major Mayhem 2 raises the bar on ninja-killing and havoc-wreaking in every possible way. Taking control of the titular Major, you'll run-and-gun your way to glory by wiping out every enemy and vehicle that stands in your way, with one thing and one thing alone: pure, unadulterated firepower!
Developers Rocket Jump has self-published Major Mayhem 2, having previously released the first game under the Adult Swim Games name, and they've made some stellar improvements, most notably with the controls. Graphics and overall game size have also seen a big boost. Download it for free and earn your stripes, soldier!
Stranger Things: The Game - Free
While most tie-in games have a tendency to feel rushed and wholly unnecessary, this single-player arcade action-puzzler from BonusXP brings a whole new level (many levels, in fact) to the Stranger Things 80s experience. Not only does it tell a whole new story set in a colourful 32-bit rendering of the mysterious town of Hawkins, it also feels true to the sort of game that the characters within the show would actually be playing in the year 1984.
Players swap between various Hawkins inhabitants from a top-down perspective while hunting for clues, fighting baddies, and solving maddening yet satisfying puzzles across a number of dangerous retro environments. The controls are simple and fun, while the story develops at a steady pace, growing in complexity with each new chapter. It's a neat companion piece to the Netflix series, but Stranger Things: The Game is a seriously good android game in its own right, as addictive as it is authentic.
MIRIAM: The Escape - Free
Remember Limbo? Of course you do! We all do! It was great! And now you can play it all over again on your mobile for free, and - oh, hang on a second, this isn't Limbo! Yes, it's identical in almost every way, from the minimalist black and white level design to the puzzle-solving gameplay and the tiny, silent child protagonist. But it's not Limbo. It's MIRIAM: The Escape, a free-to-play from a developer called Tengle Games who have no connection whatsoever to Playdead's Limbo beyond their obvious love for that game.
Like in Limbo, you control a child (Miriam) trapped in a darkly surreal and dangerous dreamscape, and must run around its puzzling platformer levels until you get to the end. Miriam is also allergic to light, and is killed - or wakes up? - when exposed to it. Same goes for water, long falls onto spiky objects, and spinning saw blades which inhibit her progress. Every level has a key which unlocks a door to the next level until, presumably, you escape the nightmare. MIRIAM: The Escape is great, immersive fun; however, it is most certainly not, as the developers claim, 'a one-of-a-kind indie game', as it is essentially Limbo 2 for mobile. How low can you go, Tengle Games?
Marvel Strike Force - Free
Developed by FoxNet, Strike Force is a mobile RPG addition to the ever-expanding Marvel Cinematic Universe. In turn-based combat, players control a team of well-known heroes from the Marvel franchise to battle the forces of evil led by world-conquering villain Ultimas. It's been described as the Marvel equivalent of Star Wars: Galaxy of Heroes, only better. For a phone game, it's pretty high-pedigree, with decent writing, cool graphic storyboards between missions, and some entertaining fight animations. Build your team by unlocking your favourite characters via missions, and train them up to become the ultimate superhero crew.
Strike Force is a large game that's gone through extensive testing. It launched globally on 28 March 2018, but there's already a burgeoning community of dedicated players. Check out this ridiculously in-depth beginner's guide on Redditbuilt by the game's tester community to help new players find their feet. Strike Force is a must-play for any diehard Marvel fan, but anyone who enjoys role-playing and character building will love it too.
Clash Royale - Free
Clash Royale, the smash hit spin-off of Clash of Clans, is about the most popular "freemium" mobile game in the world right now. It combines the best elements of the Tower Defense and Action Real Time Strategy genres to create an addictive and highly competitive gaming experience. The humorous, cartoonish animations and Python-esque sound effects keep things light and fun, and its gameplay mechanics have just the right blend of familiarity and originality.
Clash Royale made more than $1 billion in revenue during its first year alone, and now developer Supercell is offering players the chance to win some of that money back; a dedicated Clash eSports league has been developed for 2018. Trials pulled in 25 million players, and from the winners, 36 teams have been selected to fight it out in the ultimate eCompetition for a one-million-dollar prize. Clash Royale may be a couple of years old, but it continues to renew interest with these exciting community events. And, if you're good enough, it could be pretty lucrative.
Rules of Survival - Free
Moving on from Clash Royale to Battle Royale with Rules of Survival. With 100 million downloads and up to 120 players per match, you're never short of opponents – nor of ways in which to kill them, with weapons ranging from sawn-off shotguns to rubber chickens. Playing in third-person over-the-shoulder style, you run around the map hoarding weapons, gear and medicine while killing all who cross your path. The map's "Safe-Zone" gets smaller and smaller as each match progresses, forcing the competitors into an ever-tighter and more deadly combat arena. Compared to a console shooter, the controls are clunky, but for a free app it's not bad at all. That said, those with XL phone screens have a considerable advantage over those who do not.
Fallout Shelter - Free
Initially released as a kind of warm-up game in the buildup to Fallout 4's release, Fallout Shelter remains popular with fans of the apocalyptic franchise and strategy game buffs alike. Some are still playing Shelter long after completing Fallout 4 - or having their copy forcibly removed following an intervention, as in the case of this writer. The post-nuclear fallout simulation game, which has also been adapted for console, is as addictive as they come. As a Vault-Tec Overseer, you assign roles to Vault-dwellers and expand your underground shelter from a hostel into a veritable subterranean city. With its frenzied pace, jolly animation style, dark humour, and impressive level of customisation, you're constantly juggling a hundred different tasks. Which sounds sort of stressful, but it's not.
Many people – myself included – would never have touched a strategy game were it not for the Fallout branding. And while it did capture the essence of the Wasteland that we all know and love, it worked as a standalone game in its own right. Yes, there's element of dull grinding that can only be avoided through microtransactions, and it doesn't really have a main storyline or an ending, but it's one of the best freemium games of its genre.
Pokémon Go - Free
Wait, there are still people playing Pokémon Go? Yes. They've got to catch them all, and those Pokémon won't catch themselves. And anyway, as soon as the app's most hardcore followers get that last creature safely nestled in their pocket, developer Niantic releases another slew of cute monsters to round up.
We'll say one thing for Pokémon Go: it gets people moving. Since you have to go out into the real world and use your phone camera to catch new Pokémon or battle in gyms, it gets gamers interacting with the places and people around them more than any other app. A couple of Expert Reviews staff remain loyal followers of Pokémon Go, and describe the interesting people – fellow Poké trainers – who they've met while marauding around Central London for those elusive regional legendaries.
Asphalt Street Storm - Free
Get faster and more furious than ever before with the latest addition to the Asphalt street-racing series. In Street Storm, drivers can get revved up for a spot of illegal street racing, chicaning around the world's most stunning cities, from Paris to New York to Hong Kong. Each instalment of the Asphalt series is essentially an improvement on the version that came before, and they have been released at fairly regular intervals since the dawn of smartphone gaming. There's a new Asphalt on the way in 2018, called Asphalt 9: Legends - trailers and gameplay footage are out there, but there's no exact release date yet. Keep playing Street Storm, but remember that an even better Asphalt is on its way to an App Store near you!
Best paid Android games 2019
Stardew Valley - £7.99
Farming simulators are extremely popular on mobile devices. They're easily playable in short bursts but allow you to cultivate your own experience over a long period of time. One of the most successful farming sims around is Stardew Valley, and it's well-loved for a reason.  When you arrive in Stardew Valley, you find the surrounding town to be in serious disrepair, just waiting to be reinvigorated. Starting with limited supplies, hand-me-down tools and a handful of coins, the player must restore Stardew Valley to its former glory by expanding the farm and exploring the treasure-filled, monster-strewn land beyond.
With dozens of unique NPC's to interact with and befriend and a bevy of customisation options for your character and homestead, the world of Stardew Valley can be personalised to reflect your own idyllic version of a quaint, rural lifestyle in 16-bit form.
Minit - £4.19
If the idea of solving an intriguing mystery in a Groundhog Day-esque loop sounds appealing to you, then Minit is the game you're looking for. Limiting playtime to bouts of just 60 seconds, Minit requires the player to gradually solve puzzles in order to lift the curse that's forcing the world to restart every minute.
If that sounds like too short a time to solve the game's mysteries, there's no need to worry, as any items you find are retained your next playthrough. Perfect to play in bite-sized chunks, this pixel art, black and white cutesy adventure will have you hooked in 60 seconds or less.
Death Road to Canada - £8.99
A gloriously silly arcade adventure set in a post-apocalyptic ZombielandAmerica. It's like The Walking Dead meets Scott Pilgrim, in procedurally generated Action-RPG form. Take control of a team of human, superhuman, and animal survivors who hack, slash, shoot and drive their way through the endless zombie horde on an epic road trip from Florida to Canada — the only country in the world not ruled by the undead, apparently.
It's a perfect blend of old-school arcade gaming and self-aware silliness, with skeletons toting miniguns and bearded men hurling cars; over 500 enemy zombies can swarm the player at any one time, so there's never a dull moment. There's a whole host of running gags, the wacky dialogue options being most reminiscent of early Fallout games, and because there are multiple choices at so many stages of the game (which also change depending on the members in your team) it has infinite replay value. Death Road to Canada is probably best experienced on full screen with Android TV and a Bluetooth Android gamepad, but it's just as much stress-busting fun to play on a crowded train full of fellow zombies. Sorry, we meant commuters.
The Franz Kafka Videogame - £3.49
The Franz Kafka Videogame is a puzzle-centric adventure game developed by the prolific Daedalic Entertainment, based on the absurdist writings of Austrian-Czech author Franz Kafka (in case you hadn't guess from the title). This game is as creative as it is strange, taking you through a bizarre series of interactions with talking ducks, exotic femme fatales, and crazed head waiters. The puzzles vary in difficulty but none are too difficult – experienced puzzlers will crack the game in a single evening. The real appeal of the game, and why it's worth paying for, is its rich art design and immersive soundscapes. It's such a fun, well-developed game world that you don't mind repeating puzzles to spend more time there.
How faithful the game is to the works of the titular writer is up to you scholars out there, but it is nevertheless an enjoyable experience, and a cut above the free-to-play puzzlers available on the Play Store.
Hitman Sniper - £0.79
This is the definitive 'Grassy Knoll Simulator' for Android. Set in the cutthroat universe of the Hitman game series , Hitman Sniper places you in the shoes of Agent 47, the deadliest marksman ever born. Across a range of missions and locations, you'll scope out targets and, well, snipe them. In the head, usually. It's amazing how many variations you can perform of the simple assassination, from 'lure kills', to 'accident kills' and 'body disposal' shots. Add to that a plethora of unlockable superhuman sniping abilities and weapons upgrades, and it's a relentlessly entertaining sniping game.
As if the main missions weren't enough for a mere £0.79, the Death Valley Expansion guarantees you your money's worth. Shoot wave after wave of the living dead to protect 'Random Car Guy' in this frantically paced and challenging zombie mode. Check out the tongue in cheek trailer below.
Framed 2 - £4.49
Perhaps the least-known Android game on the list, Framed 2 is the second game in this fascinating noir-mystery-thriller-puzzler series from Loveshack games. The follow-up to the multi-award-winning Framed, Framed 2 acts as a prequel to the original story. Gameplay is unusualtosay the least, but it's also exceptionally clever and gorgeously realised. Action plays out in a predetermined comic-style animation, sort of like a cartoon, but the order of the frames must be rearranged in order to progress. Swap the panels to alter the outcome, and solve the puzzle to survive. It's like a living, breathing graphic novel, with a delightfully noirish dark jazz soundtrack accompaniment.
Minecraft - £6.99
Formerly known as Minecraft: Pocket Edition, this Android app lets you mine and craft to your heart's content, wherever you may be. Nearly eight years after its release, the digi-LEGO megaverse of Minecraft remains a worldwide phenomenon. For a while, it wasn't possible to get the full craftian experience on mobile, but the app version of the insanely popular 3D building game has seen steady improvements, with heightened graphics and faster loading times. And following the Better Together update, it's better than ever.
For such a huge, theoretically never-ending game it's not too hefty of a download at 58.19MB. And for £6.99, you can possess a world of unlimited creativity at your fingertips. Minecraft is the type of game that allows us to feel fine about wasting ten to 12 hours in a non-existent reality because, hey, at least we made something. Also available from your local App Store is Minecraft: Story Mode, an action-adventure campaign from Telltale Games set in the Minecraft universe.
Goat Simulator - £4.99
Hear us out on this one. Goat Simulator is more than a game: it is the cutting-edge in goat-simulator technology. For a mere five pounds, you too can know what it is like to be a goat with the capacity to destroy the environment around you at whim. No, it's not a serious game, and no, it's not a realistic game. This is no Flight Simulator. This is no-holds-barred, bleating, head-ramming carnage. Goat Simulator Free is, well, free to download, but we recommend purchasing the full game for the maximum ruminant experience.
Best retro/arcade Android games 2019
Sonic the Hedgehog Classic - Free
Mascot characters have come a long way since their original incarnations and Sonic is no exception. We will admit, Sonic has had a few rough spots over the years, which is why it's worth going back and experiencing the game that put him on the map.
Sonic the Hedgehog Classic takes the formula of 2D platformers and cranks everything up to 11. By injecting the genre with a dose of adrenaline-pumping speed, the original Sonic game requires you to complete stages while maintaining your momentum and barreling through enemies and obstacles, before finally defeating the evil Dr Robotnik. For fans both new and old, it's never been more fun to go back and revisit a classic.
Tetris - Free
Simple in design and satisfying in execution, there's a reason Tetris is the best-selling game of all time. Originally released in 1984, the puzzler's fun yet challenging simplicity soon spread across the globe, cementing it as one of the greatest arcade games ever made.
In essence, Tetris is about fitting falling shapes into empty spaces and creating more space by deleting rows before the screen is filled. It's still impressive how Tetris manages to squeeze so much enjoyment from such a simple concept. The longer you play, the faster the shapes fall and the more panicked you become as you slowly run out of space to put them. Tetris is an easy game to play but a difficult one to master, as the further you progress the more difficult the challenges become.
Street Fighter IV: Champion Edition - Free
Street Fighter IV: Champion Edition is pretty late to the game for Android, as it's been on the iOS since mid-2017. But it's here now, and that's all that matters. Street Fighter is the best fighting game series around, period – that's a scientifically verifiable fact. And now you can play it on Android. Granted, it'strickerto get the hang of the controls than on a console or a fight stick – it's only a small touchscreen, after all – but after a time you'll get used to it. For the grand sum of zero pounds, you can play single-player arcade mode and a bit of online, but if you want access to all characters and modes you'll have to fork out £3.99 – totally worth it, as you're Shor(yuken) to have a good time.
Super Mario Run - Free
Maybe it's not a classic in the true sense, more revamp than retro, but it sort of fits in this category. Nintendo's first attempt to break into the mobile game market is a strong one. In this iteration of the Super Mario series, the eponymous plumber (never seen him fix a pipe,myself) sprints along in typical side-scroller fashion, leaping and jumping, and collecting those shiny coins. It's an endless runner so you don't control the progression, just the jumping, which keeps things nice and simple.
The gameplay is surprisingly varied, though, with several different paths to take on most levels and plenty of cause for replaying sections to earn more coins or beat records. Then there are the Rally racing mode, the Tour exploration mode and the manic Remix x 10 mode. It's terrific, fast-paced fun set in everyone's favourite fantasy land. Yoshi and Co stop in to join in on the action too. The only things we're not so keen on are the new-fangled drum-and-bass reworks of the original Mariosongs,and the "helpful" mushroom Toad who shouts "HEY!" every single time you get a notification of any kind.
Pac-Man - Free
It's Pac-Man, the coin-eating head dude, but now on a phone. What else did you expect? It is pretty great, though, proving that the game's popularity is not only due to nostalgia; it's genuinely addictive. The swiping for movement control feels even more intuitive than a joystick or buttons on a pad – it's actually easier to play than ever before. And it offered us ad-free gameplay for only 99p! There's Classic mode, as well as a bunch of tournaments and mazes to work your way through. Plug away at them to collect coins to use in the menu and unlock new mazes, or complete microtransactions to buy yourself easy access to the higher levels. One of them has asteroids in it, so that's cool. Oh, and also there's a Hello Kitty update now.
Best 2019 Android games for a cheap (aka free) laugh
Doge 420-MLG - Free
The dankest game app of all. In this obnoxious but hilarious mini-game, you, an MLG Doge, must use Dorito buttons to scroll left to right as a downpour of cannabis leaves, snowballs, and Doritos rain from the heavens. Get the Doritos bag for protection from Lord Gabe himself, while air horns blare and pre-pubescent boys scream on the ear- and soul-destroying soundtrack. There are three bosses to beat, so if you take yourself for a hardcore memester then give it a go. Be warned: it is a bit buggy, but as it was made by two brothers rather than a professional studio, this can be forgiven.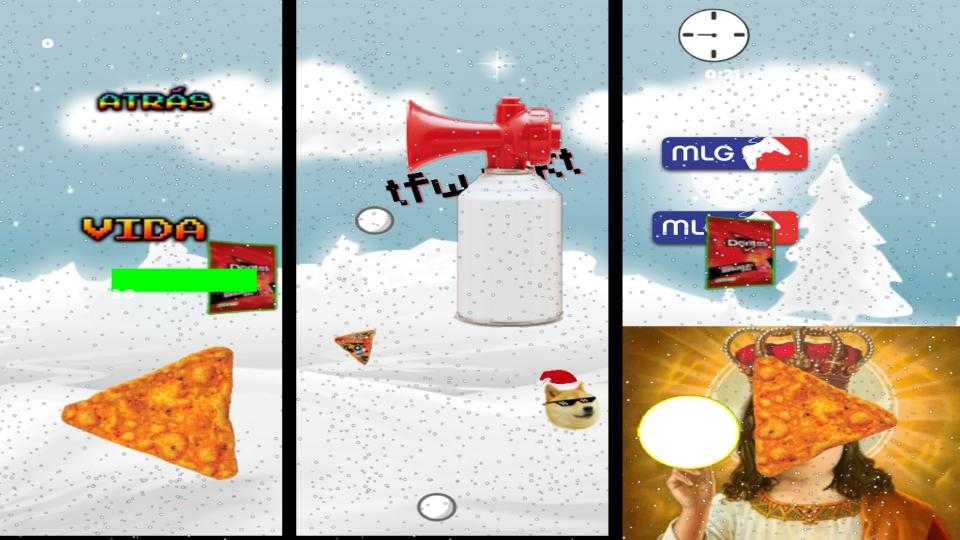 Friday the 13th: Killer Puzzle - Free
If you've ever wanted to take control of the murderous Jason Vorhees antagonist (or protagonist, depending on your viewpoint) of the Friday the 13th film franchise, now is your chance. Killer Puzzle is a ridiculous yet charming free game in which players slide the machete-wielding Jason across a series of increasingly complex mazes so that he can get within slicing distance of 'evil' campers and cut off their limbs. Remember the slidey ice floors from the old Pokemon games? It's like that, except with a lot more blood — and with the added guidance of your dead mother's disembodied head. The developer of the game, Blue Wizard Digital, has taken every opportunity possible to insert some death and murder-related punnery, and it does not go unappreciated. Pop on your hockey mask and get to work...blood work!
Radish Girl - Free
A game in which you control a girl who climbs increasingly tall and dangerous radishes. There's nothing more to say. Apart from to quote this person's review from the Google Play Store: "Weirdly satisfy. Don't want to admit but very enjoy when the root hit the girl."
Steppy Pants - Free
In Steppy Pants, players take control of an overly gangly and uncoordinated 3D rectangle man who walks down a street. But he has a weakness: cracks! If you step in any, he's done for. All you do is tap to step, but it's a lot harder than it looks. There's also TNT to avoid, and if you overstep then Mr Steppy Pants goes into full splits mode and cracks at the groin. Ouch! Steppy Pants also features fun 1v1 online modes, including an Olympic style sprint and a Haunted House survival run, in which the slowest walker gets murdered by a scary clown.
Heads Off - Free
This game is a scream! No, literally. You play as a disembodied head who traverses a barren 2D landscape by releasing guttural cries with each touch of the screen. Heads Off is a brilliant metaphor for the struggle of life – you get through it, but it ain't easy, and there are many pitfalls along the way. The further along you get by screaming, the more points you collect, which can be used to grow new heads on the Tree of Life. Play as different heads with different hairstyles (this affects the way your head rolls), accessories and, best of all, different scream types: there's abject terror, cackling laughter, ultimate suffering, falling to your death – you name it.
The game's simplicity of design and play mechanics is beautiful – despite all the screaming, it's genuinely relaxing to play. During each run – or roll – you're also treated to a scrolling timeline of your head's life, which seems to be randomly generated. Each year of your decapitated existence is defined by some momentous event, or achievement. E.g: "Age 2: Gets an MBA from Oxford." or "Age 11: Discovers dark matter in his herb garden". It's like one long stream-of-consciousness timeline written by The Onion – and it never stops.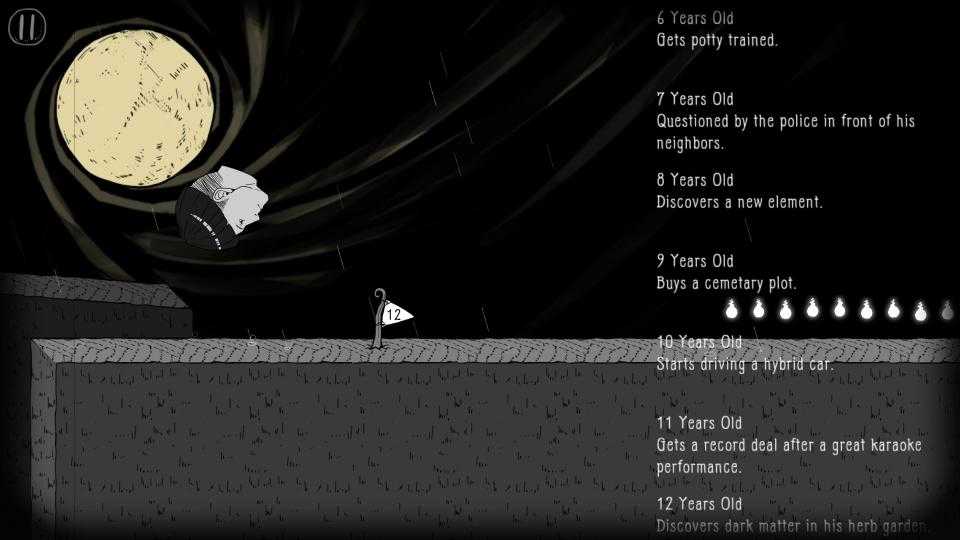 Scroll on to read about our favourite Android games from years gone by.
Oldies but Goodies: Classic Android games
Pocket Mortys – Free
Pocket Mortys is, in short, Pokémon set in the Rick and Morty universe – or rather multiverse. As Rick, you command your motley crew of Mortys to inflict brutal turn-based attacks on other Mortys owned by enemy Morty trainers. At first, you may worry that Morty alone can't provide anywhere near the variety of all 720 Pokémon, but Adult Swim Games has come up with every possible version of Morty imaginable, from Pizza Morty to Dino Morty – plus dozens more.
The game features hilarious snippets of voice-acting from the original Rick and Morty cast, recorded especially for Pocket Mortys, and the darkly comic atmosphere of the show is faithfully re-created. The final aim of the game is to beat the Council of Ricks, stand-ins for the Elite Four of Pokémon, but the real fun is the absurd journey you share with your Mortys along the way.
This War of Mine - £3.49
For many there's more than enough war reported in the news, making this exploration of the grim reality of being caught up in a conflict rather daring. This is true survival horror, with you managing a small band that must get by day-to-day while caught in a viciouswarzone.
Food and medical supplies are in short supply and you have to work out how to get your band through each day. You must go out at night and scavenge for supplies in order to survive but such trips are hazardous, both to the body and spirit, as looting from others can leave your character depressed and useless. It's brilliantly designed but its theme means it's not for everyone.
Lara Croft GO - 99p
Lara may be exclusive to Microsoft on consoles (for now) ion Rise of the Tomb Raider, but on mobiledevicesanyone can go tomb raiding thanks to this excellent take on the character. This isometric puzzle-action game is true to the original games, with you pushing and pulling objects to solve puzzles while fending off animal enemies.
The graphics are beautifully realised, simplistic yet stylised. You move Lara around by tapping and swiping the screen. It's a brilliant game and there's already extra levels for it, which the developer has released for free. Right now it's only 79p but it's worth buying even at full price.
Angry Birds 2 - Free
Yeswe're sick of the little blighters too, but putting the characters aside there was a reason that the original game was so successful and this true sequel improves on the formula in numerous ways. There are multi-stage levels to master, levels which change in layout every time you start them afresh and spell cards to play in order to enhance your abilities. Most crucially you get to choose which bird will fly next, letting you develop different strategies for each level. It's well worth a go, just try and ignore the over-exposed avians.
PAC-MAN 256 - Free
This is Crossy Road developer's other game, which is saying something given that it's hitched to one of the biggest brands in gaming history. Essentially it's PAC MAN with a twist as you must constantly progress up the isometric screen as the level is eaten away behind you. There's ghosts of course and a wide variety ofpower ups, plus the maze itself will sometimes become your undoing unless you keep one step ahead. Great fun in short bursts and free-to-play.
Sorcery 1, 2 & 3 - £3.00 each
Sorcery is a classic Eighties gamebook series, arguably the jewel in the crown of the Fighting Fantasy books, a multi-part epic fantasy adventure with dark and mysterious overtones, we love it. And now it's better than ever, thanks to this masterful conversion by interactive storyteller Inkle. The game plays out through the usual book passages, but combat has been redesigned entirely and there's a map so you can follow your progress across the land. The first book is great, but the second is brilliant, and if fantasy isn't your thing then also check out 80 Days , a similarly-structured steampunktakeon Around the World.
Hearthstone - Free with in-app purchases
Hearthstone is a head-to-head card game enjoyed by millions around the world, basedaroundthe popular World of Warcraft game. You need have no experience of that game, or of its spiritual forefather Magic the Gathering, to play Hearthstone though as its mechanics are slick and streamlined. 'Minutes to learn but a lifetime to master' has never beenmore true. You can spend real cash buying more cards, but the free basic card sets are enough to quickly earn you enough gold and dust to get the key cards for any one of the nine character classes. A brilliant game and one that could keep you entertained forever. Read our full Hearthstone review .
Hitman Go - £3.99
Hitman Go takes the long-running console game of sneaky and brutal assassinations and shrinks it down to fit in your pocket. The developers have taken that shrinking concept to hear too, with graphics inspired by the likes of Slinkachu , each level in Hitman Go is like a tiny model diorama, complete with little figurines of all the characters which totter about the world.
The gameplay is perfect for mobile use, with distinct step-by-step moves, you simply swipe to move Hitman 47 around the world and tap to take actions such as shooting. You have all the time you want to consider your next action, making this a cerebral puzzle game rather than an action title. It's a brilliant example of how big brands can work well on mobile without resorting to horrible onscreen analogue sticks and buttons. Followed up by Lara Croft Go, above, which is a similar take on the same concept.
Broken Age - £3.88
Broken Age comes from Double Fine, the much-lauded developer of adventure games run by Tim Schafer, the legendary creator of Full Throttle and Grim Fandango. This is the company's latest effort and it blends imaginative storytelling with a split narrative between two characters; alongside traditional point-and-click gameplay. Yes, the first act came out back in 2014 but the second one was earlier this year and so this has jumped back into our minds. It's not the best game ever made, but if the writing and art style appeal, you'll love it.
XCOM: Enemy Within - £3.98
Quite simply the best, accessible strategy game of recent years. Yes, we know you've defended the earth from alien invasions many, many times before, but here you have to capture alien subjects, research new weapons, keep your allies onside to fund your personal army and then direct them in the field in a series of tense turn-based battles. It's brilliant stuff with a real, developing story to play through as you find out more about the invaders. This 'Enemy Within' version of the original 'Enemy Unknown' comes complete with loads of extra, including mechanised suits and genetic enhancements for your men. A brilliant game, and one you can take at your own pace. Read our full XCOM: Enemy Unknown review .
Plants vs Zombies - Free
Forget its capable but free-to-play sequel, this first outing is now free (or confusingly 50p depending on which version you buy) and has all the PvZ action you need. Essentially a tower defence game, you must defend your home from the shuffling dead, who approach in rows. You do this by planting kick-ass plants in your lawn, who then lay down a hail of peas and other projectiles. It's fast-paced action where you have to think on your feet, the game scales up nicely, adding new environmental challenges, new enemies and new plants. It's great fun from beginning to end, and there is a definite end too, which we like. Read our full Plants vs Zombies review .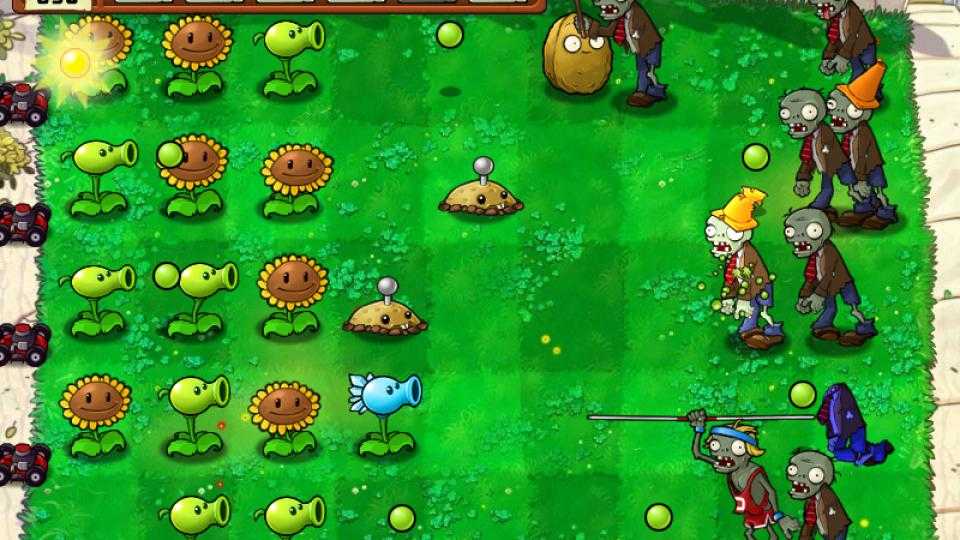 The Room and The Room 2 - 69p and £2
The Room (and its sequel) does something simply brilliant, it presents you with a puzzle box and lets you get on with discovering its mysteries. What's really impressive is how physical, how tactile the box itself feels as you spin it around, push hidden buttons, twist cogs and slide open secret nooks. Everything is beautifully rendered and you can take our time exploring its intricacies and discovering the secret hidden deep inside. An incredible bargain at just 69p.
Desert Golfing - £1.19
Desert Golfing is a very simple game. The ball appears on the left, there's a hole on the right and you set power and angle using your finger to try and get the ball in the hole. The screen then shifts over to reveal the next hole and you repeat the process. Forever. The courses are randomly generated, we've seen one piece of scenery, a cactus, in nearly 600 holes, it just goes on and on and on. There's a score for the total number of shots and it keeps count of the number of holes completed, but there's nothing else, no par, no awards, and no way to start again bar uninstalling the game. It's incredibly minimal, but the height on the shots, the physics of the ball bouncing and sticking to the sand is so good you won't care.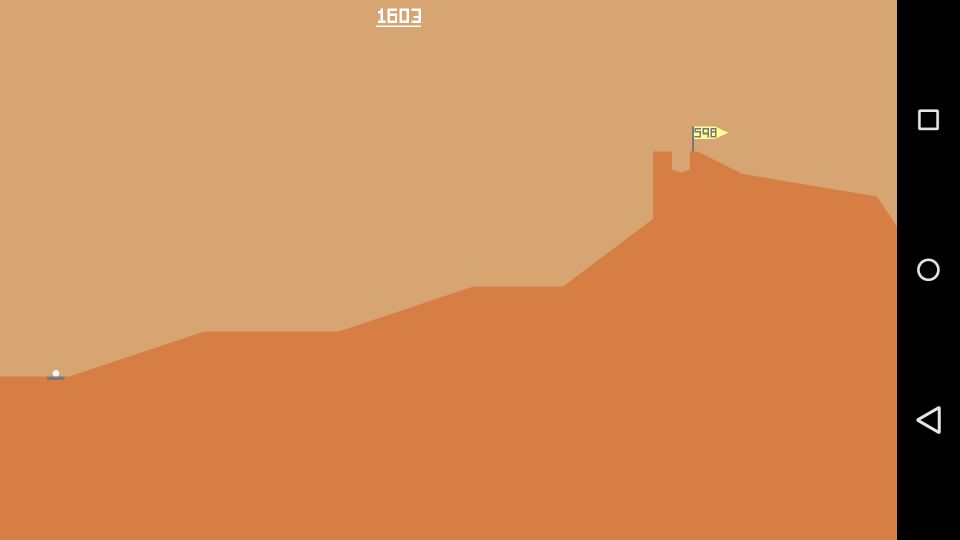 World of Goo - £2.99
World of Goo is a brilliantly innovative puzzle game, in which you have to build structures, such as bridges, in order to traverse its levels. Your only building blocks are blobs of stretchy, sticky goo, which you drop down to create some pretty cool and clever structures. The physics are excellent, there are special types of goo as you progress, and the challenges are brain teasing at times. Amazingly though there's actually a rather bizarre and surreal, yet touching, story behind all this and the art is nothing short of brilliant. A must play title. Read our full World of Goo review .
OLO - £1.49
OLO is one of those games that's devilishly simple but great fun to pass the time. Up to four players on the same device or you can play against opponents online. OLO requires a balance of skill, strategy and sometimes just a bit of luck to win as players take it in turns to attempt to flick tiles into their opponent's target zone. You can also try and knock your opponent's tiles out of the scoring zone, but be warned, overshoot the mark and your opponent can claim your tile as their own and the death finger takes tiles out of play.
Baldur's Gate Enhanced Edition - £6.99
Baldur's Gate took the Dungeons and Dragons pen and paper game and evolved it into a tightly paced, incredibly vivid PC game that looks just as good on an Android tablet as it did on our CRT monitors back in 1998. You could buy what is arguably one of the greatest RPGs of all time by itself, but really the Baldur's Gate saga comes into its own in the sequel, Shadows of Amn. You can then import your character from the first game and pick up where you left off in the Sword Coast. Read our full Baldur's Gate: Enhanced Edition review .