It used to be common to store files on your computer, external drive, or burned on a CD. Now people want files available anywhere, anytime and that's why cloud storage is so popular today. There are a lot of companies that offer cloud storage, but vary in the amount of free storage available and features.
Check out this list of the best free cloud storage options and decide which one works for you.
Google Drive
Google is one of the biggest providers for cloud storage. Free Google Drive space is included with your Gmail account. If you use Google Docs , files are stored in your Drive account and accessible through the web or mobile apps.
You can install a Google Drive folder to your desktop to access files. You can select which folders to sync, but be aware that syncing takes space on your computer.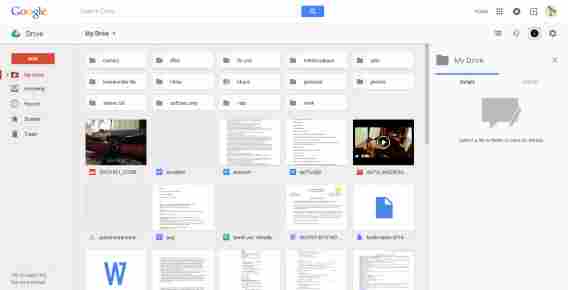 Free: 15GB across Gmail, Google Drive, and Google+ Photos
Paid: 100GB – $1.99/month, 1TB – $9.99/month, 10TB/month – $99.99
Upload limit
Documents: 50 MB and 1 million characters
Spreadsheets: 100 MB and 400,000 cells with a maximum of 256 columns
Presentations: 100 MB (created in Google Drive), 50 MB (uploaded, converted presentations)
Files: up to 5 TB each
Items counted towards storage are Gmail messages and attachments, files stored in Drive like images, videos, and music, photos over 2048×2048 pixels and videos longer than 15 minutes.
Open within Drive
You can open and preview common files via browser without a problem. The Android app can stream music and video. Google Drive for iOS is limited to simply viewing files and can't play media.
Google Drive in Chrome can play music files . AAC and OGG files are also supported, but there is a delay. If you want to play FLAC or ALAC, then you'll need a compatible third-party app. You can also watch uploaded videos in a variety of formats. WebM, MPEG4, 3GPP, MOV, AVI, WMV, FLV, and MTS. After you upload, the file is processed for playback in Google Drive.
Photos will open in a preview window and other office documents will open in the respective app if they're supported. Other file types like PDFs are viewable in Drive, but you need to install a third party app from the Chrome Web Store .
Google Drive: Android | iOS | Mac | Windows
Best for : Gmail users, general backups, and file sharing.
Dropbox
Dropbox has been around for a while and a lot of people use it. Unfortunately Dropbox only offers 2GB for free accounts , much less than its competitors . However, you can earn more space by referring friends and other methods . Dropbox adds a folder on your desktop that syncs with your online account so if you manage files through that folder, changes also happen in the cloud.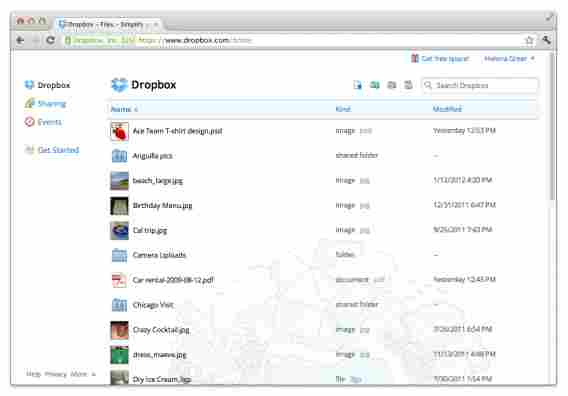 Free: 2GB (with ability to earn more)
Paid: 1TB – $9.99/month
Upload limit
There is no limit when uploading on the desktop or mobile apps . Files uploaded through the website are limited to 10GB . Be aware that Dropbox syncs with your computer so if you don't have enough physical hard drive space, you can't upload all your files.
Open with Dropbox
Dropbox can open files stored online. On desktop, you'll need a compatible program. Depending on the mobile operating system, you will be able to view a file, but saving edits will only work if the program is integrated with Dropbox. Here's what each mobile application supports:
Android
The Android app will search for a compatible application.
iOS
Images: JPG, TIFF, GIF
Music: MP3, AIFF, M4A, WAV
Movies: MOV, MP4, M4V
Microsoft Office: DOC, DOCX, PPT, PPTX, XLS, XLSX
Adobe PDF
iWork
Text: TXT, RTF, and more
Dropbox: Android | iOS | Mac | Windows
Best for : Productivity.
Box
Box is another classic cloud storage service. It's great for personal use with 10 GB of storage , but the 250 MB upload cap is disappointing. If you go with a paid plan, you will have a higher upload cap, but the amount of storage doesn't match other providers.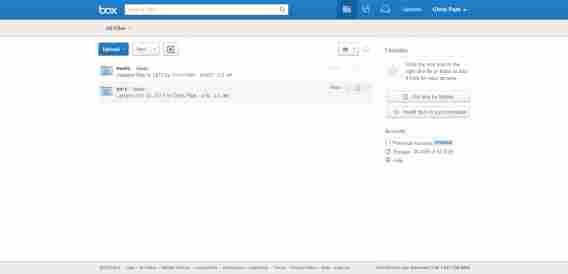 Free: 10GB, 250MB upload limit
Paid: 100GB, 5GB upload limit – $10.00/month
Upload limit
Box is perfect for photo and music storage. 10GB should store most of your photos and some of your music. But it's worthless for storing videos. You'll probably hit the 250 MB cap a lot if you try and upload high definition videos.
Open in Box
When you're using the Box app, you can use Preview to glance at files. If you're using Box through a browser, you can view most common file formats. But Preview is limited to files 500MB or smaller except for video files which have a 3.5 hour limit. If you're viewing video, it will be down-sampled to 640×480.
Box Mobile apps give you different options if you're using Android or iOS . Android lets you to view, create, edit, and share files. iOS allows you to view and share only. If there are compatible third party apps, you will be able to edit within those.
Box: Android | iOS | Mac | Windows
Best for : Productivity, photo backups.
iCloud Drive
Apple's service is great if you live inside the company's ecosystem. While it's compatible for Windows , iCloud Drive is designed to benefit OS X and iOS users with simple drag-and-drop and cross-app editing. One problem with iCloud is it's possible to fill up the free 5GB very quickly.
Free: 5GB
Paid: 20GB – $0.99/month, 200GB – $3.99/month, 500GB – $9.99/month, 1TB – $19.99/month
Upload limit
iCloud Drive lets you upload any type of file to your storage. The file size limit is 15 GB , but considering only 5GB is free, don't expect to store a lot of media files. iCloud Drive is best for sharing files and data between apps .
If you want to store your music in iCloud, then you'll need to sign up for iTunes Match at $24.99 a year.
Open in iCloud Drive
If you have a compatible app, you can open files on different Apple devices and sync changes across them all. This means that you can edit one document in different apps , but always have the latest version when you sync through a data connection.
If you use Apple products, then using iCloud Drive as a productivity tool is useful.
iCloud Drive: Mac | Windows
Best for : Apple users with Mac and iOS devices.
Amazon Cloud Drive
Amazon is the biggest online marketplace in the US, but its cloud storage service isn't as well known. It works as a basic cloud storage alternative . It's meant for smaller files rather than full backups. Amazon is also taking a familiar approach with files available on Amazon's Fire devices.
Free: 5GB
Paid: 20GB – $10.00/year, 50GB – $25.00/year, 100GB – $50.00/year, 200GB – $100/year
Upload limit
Photo and video uploads are limited to under 2GB and videos have to be less than 20 minutes long. As a bonus, Amazon Prime members get unlimited photo storage.
Open in Cloud Drive
Amazon supports different apps, but it's obvious from the selection it's meant for photo storage rather than productivity. OfficeSuite is supported, but the majority of apps are for file management.
Amazon Cloud Drive: Android | iOS | Mac | Windows
Best for : Photo backups with Amazon Prime.
OneDrive
Microsoft is transforming into a cloud-driven company using OneDrive to unify its ecosystem. OneDrive is the company's cloud storage system that works like Google Drive.
Office Online is included with OneDrive so you can work on Office docs in the cloud. The desktop app gives you access to your files without needing a browser. Files are stored online, but you can select files for offline access .
Free: 15GB, add 3GB (camera roll backup), add up to 5GB by referring friends. Follow our guide to get an up to 8GB of free space .
Paid: 100GB – $1.99/month, 200GB – $3.99/month, 1TB – $6.99/month includes Office 365
Upload limit
OneDrive works as a general storage solution so you can upload any type of file. The upload limit is 10 GB .
Open in OneDrive
You can open Microsoft Office Word , PowerPoint , Excel , and OneNote documents through OneDrive. You can share files from your OneDrive account through your Outlook email too.
MP3 files didn't play natively in the app and downloaded the file to my device instead, but video played in a preview window. Supported formats are Mp4, MOV, and M4V, but if a video won't play in OneDrive, you'll have to download it first and use a compatible video player.
OneDrive: Android | iOS | Mac | Windows | Windows 8 | Windows Phone
Best for : Windows 10 users.
MEGA
MEGA is the successor to Megaupload. MEGA is an encrypted storage service , which is a little different from it's predecessor . You can store anything you want and get access through the desktop client, browser, or apps. There is end-to-end encryption for files and even MEGA won't know what your uploads are.
The desktop app is similar to Google Drive and Box because it adds a folder to your computer. You choose what folders you want to sync and files can automatically be uploaded to Mega.
Free: 50GB, 10GB monthly bandwidth limit
Paid: 500GB – 9.99€/month, 1TB monthly bandwidth limit, 2TB – 19.99€/month, 4TB monthly bandwidth limit, 4TB – 29.99€/month, 8TB monthly bandwidth limit.
Upload limit
There is no maximum file size limit, but you're limited by available account space.
Open in MEGA
MEGA is for storage so there are no tools to play or view files. If you're synced on desktop, you can browse your files like you would through an explorer. The Android app can stream audio and video.
MEGA: Android | iOS | Mac | Windows
Best for : Storing files securely, getting the most free space.
Bitcasa
Bitcasa is another end-to-end encryption cloud storage service. A nice feature is that you can view or stream any kind of file without needing extra software on any device. The company says that three fully encrypted copies are stored in its servers. You can also share files with people even if they're not using Bitcasa.
Bitcasa offers auto-backups so you can set important files to back up and not worry about losing important data.
Free: 5GB
Paid: 1TB – $10.00/month, 10TB – $99.00/month
Upload limit
Bitcasa's desktop client doesn't have any upload limits, but the mobile and web apps are capped at 2 GB.
Open in Bitcasa
Bitcasa supports viewing and streaming within its apps without needing extra software. That means you can play music , watch videos , and open documents within the app. If something doesn't play then the file is either corrupt or Bitcasa doesn't support it, but considering the list of supported formats , it's probably corrupted.
Bitcasa: Android | iOS | Mac | Windows | Windows 8
Best for : Backing up important and sensitive files.
CloudMe
CloudMe is a cloud storage service with multiple tiered plans , you can get storage for a small amount of money. The free plan ranges from 3 to 19GB with a maximum file upload of 150 MB. CloudMe isn't designed to be an all-in-one solution and works better for selective backups. You can backup photos through its mobile app, sync through desktop, stream, and share folders.
Free: 3 – 19GB
Paid: 10GB – € 1/month, 500GB – € 30/month
Upload limit
The free plan is limited to 150MB and any paid plan is limited to 2GB.
Open in CloudMe
You can stream music and watch music in the app. If you want to edit files, you will have to download them first.
CloudMe: Android | iOS | Mac | Windows
Best for : Photo and music backup
These are just a few cloud storage options. Combining all the free plans might be difficult to manage, but you'll get a lot of free space without spending any money.
Related Articles
Best free office suite
Best free Android apps
Best free iPhone games