Detachable laptop tablet hybrids have always been a great idea in theory, but so far few have managed to strike the right balance between price and performance. HP looks to have made a breakthrough though with the Split X2, which is one of the cheapest two-in-one devices we've seen. It's the next evolution of the company's innovative but rather sluggish Envy X2, and thankfully it improves on its predecessor in almost every way.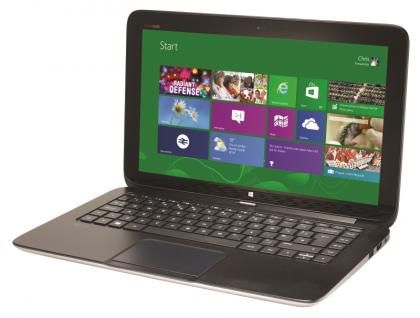 SPLIT PERSONALITY
Unlike the Envy X2, the Split X2 runs the full 64-bit version of Windows 8. The Split X2 also has a neat party trick in the form of its dual storage solution. Inside the main display, which detaches to become a tablet, is a 64GB SSD; inside the keyboard part is a 500GB hard disk. This means you've got plenty of storage space, although you need to make sure you've copied files to the SSD if you want them available in tablet mode.
Detaching the screen is as simple as flipping the switch on top of the keyboard and pulling it apart. It's the same mechanism as the Envy X2, so it still needs a firm push to connect it back into the keyboard, but its magnetic connectors and sturdy latch keep it firmly in place.
As a tablet, the Split X2 looks stunning. Its sturdy brushed aluminium chassis showed no signs of flex in the back panel, and the smooth tapered edges made it very comfortable to hold. At 13.3in, we think it's a little large to hold for long periods of time, and its hefty weight of 1kg means you'll probably want to rest it on your lap or work surface while tapping the screen.
The only port available in tablet mode is a combined headphone and microphone port on its flat underside, so you'll need to connect it to the keyboard dock to take advantage of its extra connections. There still aren't very many to choose from, but its two USB ports, HDMI output and SD card reader should just about be enough for most users.
It's comfortable to use as a laptop as well. The keyboard dock more than doubles its overall weight, but the flat keys were very well-spaced and surprisingly bouncy. It was a joy to type on for long periods of time, and its all-in-one touchpad was equally easy to use as well. Multi-touch gestures and Windows 8 shortcuts were smooth and accurate and the lower half of the touchpad gave a good level of feedback when we were browsing through our files.
DUAL ASPECT
The 13.3in 1,366x768 touchscreen is beautiful to look at, and its wide viewing angles meant we could still see the screen clearly at all but the most extreme angles. Initially we were a little disappointed with its colour accuracy, as our colour calibrator showed it was only displaying 60.3 per cent of the sRGB colour gamut. This is around average for a laptop screen, but our solid colour image tests still looked great regardless. This was helped in part by the screen's glossy finish, which helped our reds, greens and blues appear more vibrant than displays with a matt finish. Whites were bright as well, and blacks were deep and uniformly lit across the screen. This matched our low black level reading of 0.25cdm2, which is one of the lowest black level readings we've seen on a laptop of this price.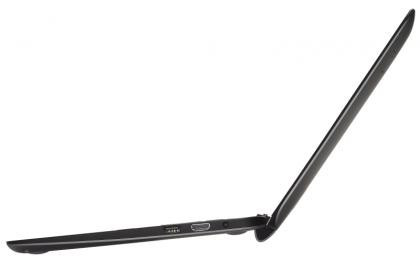 The screen's contrast levels were more disappointing, as despite recording a reasonably high contrast ratio of 851:1, we found it difficult to pick out the detail in our high contrast test images. Areas of shadow simply looked black no matter how much we tilted the screen, and increasing the screen brightness to maximum also did nothing to help. This is a shame, as the touchscreen itself was wonderfully responsive, making it perfect for passing round friends and family for looking at photos.
Image quality aside, the Split X2 is still a very capable tablet, as it uses a proper laptop processor instead of slower mobile components. It's available in two specifications, but our review sample came with a 1.3GHz Intel Core i3-4010Y processor and 4GB of RAM. This type of processor is even more energy efficient than Intel's U series of processors as it's been designed to maximise battery life rather than performance. This means there's less power available for more intensive tasks, but its overall score of 26 in our multimedia benchmarks is a huge improvement on the Envy X2's measly score of 10, and it puts the Split X2 just behind the Core i5-based Sony VAIO Tap 11, giving it plenty of speed for everyday apps and programs.