The Need for Speed series has reinvented itself countless times – from body kits and big bore exhausts in Need for Speed: Underground to running from the law in Need for Speed: Hot Pursuit , EA could never be accused of letting the franchise go stale. This year's The Run is no different, taking its inspiration from Burt Reynolds classic the Cannonball Run. In a race from one side of America to the other, you've got no choice but to put pedal to the metal.
Unusually for a racing game, there's a tightly threaded storyline pushing you through America's many varied locations. Jack Rourke, a small-time driver in debt to the mob, can only clear his dues by winning The Run, a 3,000 mile race across the US against over 200 other drivers. Despite being offered a paltry 10% of the $25million race purse, he still jumps at the chance to clear his debt, so after a quick stop off at your garage, you're at the start line in San Francisco.
Racing is split into sections, with some requiring you to pass a set number of opponents before reaching the finish, or claw back the seconds in a time trial against the clock. Oddly, once you've passed a certain racer, you won't see them again, and if you fail a checkpoint by a single millisecond, you'll have to restart the current event – this somewhat shatters the illusion of being involved in an epic cross-country race, but helps maintain its pacing and frantic nature.
The Run is powered by the Frostbite 2 engine, last seen blowing up large chunks of the Middle East in Battlefield 3, and it translates incredibly well to the racing genre. Visuals are unsurprisingly top-notch, with the rapidly shifting scenery acting like a 100mph cross-country tour, but car handling also feels great. Pitched somewhere between the arcade drifting of Hot Pursuit and the simulation of Shift, you can throw most cars into powerslides but muscle cars suffer from understeer and wrong turns and collisions result in a glorious explosion of wreckage across the highway.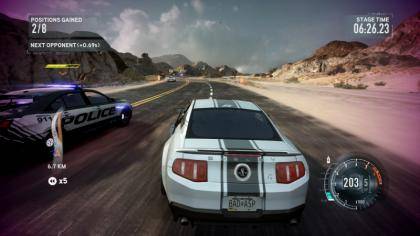 It's a shame that EA has used incredibly frustrating quick time events to advance the story – we would have preferred non-interactive cut-scenes to the button mashing tedium seen here. They pop up frequently throughout the campaign, pulling you out of the action and forcing you to follow on-screen prompts before dumping you back on the road.
There are other nuances too – you can change cars mid-race by pulling into gas stations, which is slightly odd in itself, but no matter how long you spend choosing the right body kit and paint combination for your new ride, your opponents will have barely moved. The fact that each new race is on an entirely different stretch of tarmac means you're never given time to learn where to brake or turn off for a short-cut, so the computer-controlled cars will frequently leave you for dust after minor mistakes.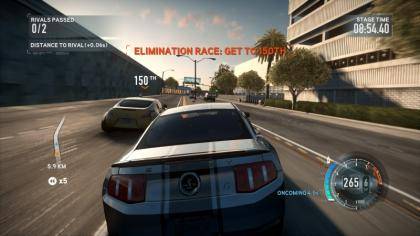 The Run has an incredibly short storyline, a fact only highlighted because the game encourages you to complete it in as quick a time as possible. Easily finished in less than three hours, the meat of the game is undoubtedly in its challenge mode and online multiplayer. Autolog, the time-keeping social network that tracks your progress against your friends, makes a return, and there are plenty of tracks, cars and time trials to keep you in the driver's seat long after beating the campaign.
Once you get past the obnoxious quick time events and concentrate on the racing, The Run is a fast-paced thrill ride. Multiplayer is as addictive as ever thanks to Autolog and the graphics are gorgeous. It's the next best thing to taking an actual road-trip across America, but only if you intend to squeeze every last bit of gameplay from its short campaign.
Details