Libratone is renowned for its stylish take on audio products, and there's no mistaking the company's imprint on its latest, the Track Air+. It marks the Danish manufacturer's first attempt to crack the true wireless market, which for the last two years, has seen an inundation of products from other manufacturers.
To set itself apart from the rest, however, Libratone adds active noise-cancelling (ANC) technology into the mix, which at the time of writing, is rather unusual for a set of true wireless earbuds.
READ NEXT: Our pick of the best true wireless earbuds in the UK
Libratone Track Air+ review: What you need to know
The new true wireless Track Air+ are aimed at consumers that live an active lifestyle. They house clever active noise-cancellation technology, and are both sweat and water-resistant with their IPX4 certification. The buds will run for six hours, while the small pocketable charging case provides an additional three charges, which takes the total up to 24 hours of playback.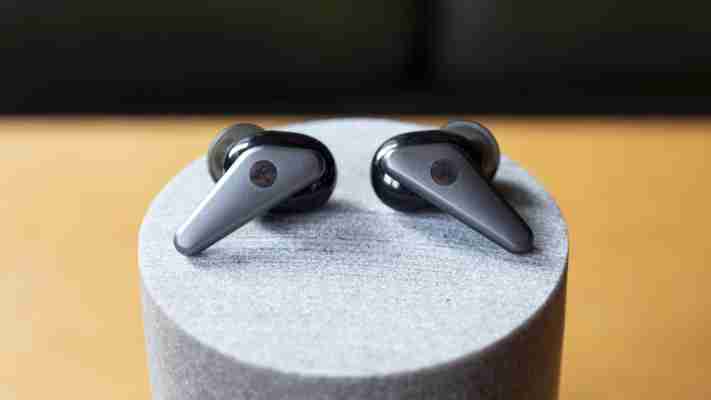 READ NEXT: Sony WF-1000XM3 review
Libratone Track Air+ review: Price and competition
The Track Air+ are priced at £179 . Libratone also sells the near-identical Track Air for £139 – these drop support for Libratone's noise-cancelling technology as well as Qualcomm's aptX codec – both key features for the pricier Track Air+. However, the cheaper Track Air last a touch longer, as they're rated to last eight hours on a single charge and offer up to 32 hours of total playback, an improvement over the quoted six and 24 hours of playback respectively of the Track Air+.
As for the competition, there are a few alternatives to consider, and the best options are from Sony. The Japanese manufacturer has a set of class-leading noise-cancelling true wireless – the WF-1000XM3 – for £219 . These do, however, lack the elegant portable nature and IPX4 rating of the Track Air+.
Elsewhere, you'll find the incredible-sounding Creative Outlier Air for £75 and the IPX7-certified, waterproof E'NOD Mini Ring Pros for £70 . It's also worth considering the stylish RHA TrueConnect at £150 and the audiophile-grade Sennheiser Momentum True Wireless at £235 . There are, of course, the Apple AirPods that cost £200 ; these don't have ANC, won't fit as snuggly and aren't as sonically able as the Track Air+.
Libratone Track Air+ review: Comfort, connectivity and design
Out of all the options available, the Track Air+ buds are to me, the most elegant true wireless solution around. Available in either black or white, these stylish buds remind me of the late Phonak Audéo PFE 232 ; their short plastic stem barely passes my ear lobe, while the low-profile design ensures they don't stick out like the JBL Under Armour Flash True Wireless or the Sony WF-1000XM3 . As a result, these don't attract any wind noise and can be comfortably worn for hours on end; at just 5.6g per bud, they're extremely lightweight and have a snug fit, too.
The lightweight design of the buds perfectly complements the small cocoon-shaped charging case they come in; at just 36g, it's the lightest case I've ever come across. The small plastic cradle supports wireless charging via any Qi-certified pad, and has a USB Type-C port for more conventional methods of refuelling.
As for battery life, the earbuds last six hours on a single charge, while the case provides an additional three taking it up to a grand total of 24 hours – that's in line with its competitors.
Elsewhere, the Libratone in-ears boast an IPX4-certification, which means they're sweat and water-resistant, ideal for those who like to workout to a musical beat. To interact with them on your workouts, there are integrated touch-based controls on both sides, where a double-tap is required to control media, switch between noise-cancelling modes or access your smartphone's voice assistant. These can be customised through the Libratone app.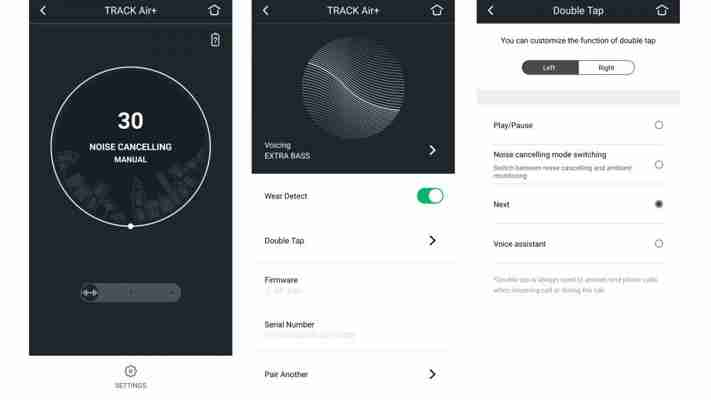 Personally, I find physical buttons – such as the ones found on the RHA TrueConnect – more reliable than touch-based ones. The design of the Libratone buds doesn't make the case for touch convincingly, either, with a small touch-sensitive area making things fiddly. The Sony WF-1000XM3 or Sennheiser Momentum True Wireless do a much better job of this, with their larger touch-sensitive areas.
Moving onto connectivity, I find the Track Air+ maintain a stable connection between left and right buds, and to my smartphone, too. In terms of codec, you're getting SBC and aptX, but no AAC. That's bad news for iPhone owners, who are only able to use the lower-quality SBC codec, but Android users can upgrade a little with aptX.
To tailor the earbuds to your liking, Libratone includes an app, which lets you finetune or pick one of three pre-assigned EQ profiles: neutral, extra bass and enhanced treble. These modes – unlike ones offered by its competitors – truly affect the sound quality. The app also lets you toggle wear detect, which uses the buds' proximity sensors to pause and resume playback.
READ NEXT: RHA TrueConnect review
Libratone Track Air+ review: Active noise cancelling performance
Within the app, you can manually tweak the noise-cancelling feature; there are 30 levels to choose from (each represents a decibel), whereby zero switches it off and thirty represents the highest degree attainable (30 dB). Libratone also has two separate modes to select: 'smart mode', which makes the earbuds automatically adapt to your surroundings, and 'ambient aware mode' which amplifies your surroundings by a few decibels.
Seeing ANC on a set of true wireless is a rarity, only these buds and the Sony WF-1000XM3 feature such technology. Comparing the two, I found the Libratone Track Air+ weren't able to block out mid-to-high frequencies as well as the Sony set, while in the lower frequencies – such as the audible hum in an aeroplane's cabin – the two are near-identical in performance.
Despite being beaten by the WF-1000XM3 in this department, the Libratone buds still actively block out noise, while rival sets from RHA, Creative and Sennheiser (to name but a few) are limited to passive isolation, only. As a result, you won't feel as distracted by fellow commuters and won't have to crank up the Track Air+ to block out ambient noise.
READ NEXT: Creative Outlier Air review
Libratone Track Air+ review: Sound quality
Having less noise to distract you has its benefits, but it's the earbuds' single 5.3mm dynamic drivers that sets these apart from other sub-£200 offerings – they sound phenomenal across the frequency range.
They particularly excel in the mids, where these bring vocals to the foreground in Pharrell Williams' upbeat song "Gust of Wind" ; Pharrell's voice isn't overpowered by all the background instruments, whereas on the Sony WF-1000XM3, the artist's voice is pushed back and sounds recessed.
The highs also ring out plenty of energy throughout the song and unlike the RHA TrueConnect , the top-end doesn't turn overly bright or sibilant. As for the bass tones, they sound tight and controlled throughout YG's song "Go Loko" – there isn't even the hint of over-emphasised mid-bass tones, either.
My only concern is the somewhat closed soundstage, especially when compared to the Sennheiser Momentum True Wireless and Creative Outlier Air . The Libratone Track Air+ just don't have that airy, open sound that I've come to expect from a set of premium buds.
READ NEXT: Sennheiser Momentum True Wireless review
Libratone Track Air+ review: Verdict
All the same, Libratone's first crack at true wireless earbuds is extremely impressive. In fact, it all leads me to think that these are the wireless earbuds to beat, especially with active noise-cancelling technology – a feature that most of its competitors can't shout about.
Even without the ANC, the Track Air+ are feature-packed and seem ideally positioned for commuters: they're supremely stylish, have a lightweight charging case, are IPX4-rated and will run for 24 hours without needing to be recharged. Quite simply, these are the definition of true wireless earbuds and deserve all the accolades.