HTC was a no-show at this year's MWC. And, following the acquisition by Google's ever-lengthening smartphone arm last year, you'd be forgiven for thinking the Taiwanese company's smartphone offering was done for. But you'd be dead wrong.
HTC has announced two new handsets, which may not be as headline-grabbing as the newly released Samsung Galaxy S9 , but provide a handful of premium features at a wallet-friendly price. The HTC Desire 12 and Desire 12 Plus are a smartphone pair that could halt the Moto G6's budget reign before it even begins.
HTC Desire 12: Everything you need to know
HTC Desire 12 UK release date: When's it coming out?
Okay, let's start with the bit we don't know anything about. Sadly, as much as we know all of the Desire 12's ins and outs, there's no word yet on when this phone will release.
At this early stage, we can only take an educated guess, and I expect the HTC Desire 12 and its plus-sized alternative to make an appearance before the latter half of 2018.
HTC Desire 12 UK price: How much will it cost?
Likewise, the price remains a mystery. Still, given its low-powered internals (more on that later), there's little reason that the HTC Desire 12's price will leave your wallet running for the hills.
My guess? The HTC Desire 12 will cost roughly £150 and it's souped-up alternative, the Desire 12 Plus, will launch for around £200.
HTC Desire 12 specifications: What's inside?
5.5in 18:9 HD+ (1,440 x 720) IPS display
Quad-core 1.5GHz MediaTek MT6739 processor
2GB of RAM
16GB of storage (expandable via microSD)
13-megapixel f/2.2 rear camera with phase detect autofocus
5-megapixel f/2.4 front-facing camera
2,730mAh battery
Android 8 Oreo
HTC Desire 12 design: What does it look like?
It's hard to miss the 18:9 edge-to-edge display on the front of the Desire 12. At a resolution of 1,440 x 720, this IPS display is a first for HTC's budget phones and, so long as the price is kept to a minimum, could make the Desire 12 a very lucrative choice for lighter wallets.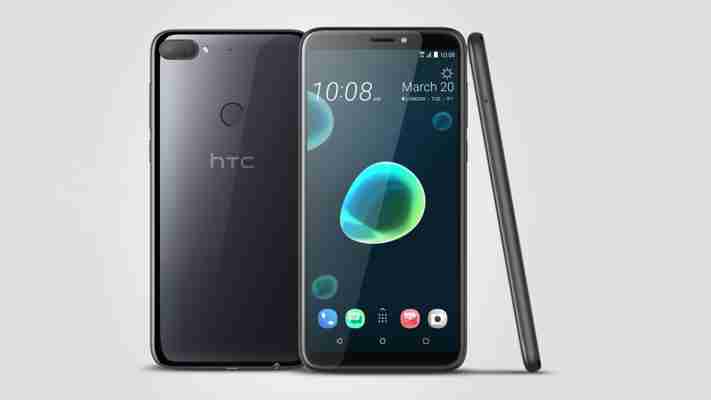 The phone is made from durable acrylic glass on the rear, with slightly rounded edges, and it can be purchased in either gold, black or silver. On the bottom you'll find the micro-USB port for charging, flanked by a 3.5mm headphone jack. On the right edge is the volume rocker and power button, and the left houses the microSD and nano-SIM slot.
Unlike the Plus, there's no fingerprint reader on the back of the device, with only the solitary camera making an appearance at the top right, along with the HTC logo placed in the centre of the phone's rear.
HTC Desire 12 vs HTC Desire 12 Plus: What's the difference?
What about this plus-sized alternative, then? Well, there are a few notable differences between the two models: the most important being that the Desire 12 Plus has a dual 13- and 2-megapixel camera setup on the back, while the Desire 12 has to make do with a solitary 13-megapixel snapper.
Elsewhere, the Plus is powered by Qualcomm's octa-core 1.8GHz Snapdragon 450 processor, with 3GB of RAM and 32GB of storage, which is expandable via microSD. The HD+ screen is slightly larger at 6in, and the battery capacity is upped to 2,965mAh.
HTC Desire 12: Early verdict
I'm glad HTC is still making smartphones. Following the Google buyout, I was concerned the long-standing firm would fizzle out of existence – and this year's MWC certainly didn't help – but both the Desire 12 and 12 Plus could be the phones to show the world that HTC is still doing business, at least in a small, budget-sized capacity.
So long as the price is kept to a minimum – we expect an announcement any minute – the Desire 12 has all the hallmarks of being the budget smartphone to beat this year. It just needs to get over that Moto G6-sized hurdle first.