While TikTok is nothing but harmless fun for millions of users around the world, for major governments, the short-video sharing app is a political thorn . Because the app is owned by a Chinese company, several governments including the United States and India worry about the threat the platform poses to national security. India, in fact, has banned the app along with nearly 60 other Chinese apps citing security concerns, and the United States is threatening to do the same – especially after Apple discovered that TikTok was secretly accessing users' clipboards . While TikTok claims that was a simple glitch and insists that the app isn't used for spying or any other nefarious purposes, the app's future may be threatened.
Most likely, though, if you're a TikTok user, you're not all that interested in geopolitical maneuvers. What you're interested in is using a fun, easy app to shoot short video clips that make people smile . Fortunately, no matter what happens with TikTok, there are plenty of other apps that can deliver the same good time without the controversy. Here are five of our favorite TikTok alternatives.
Byte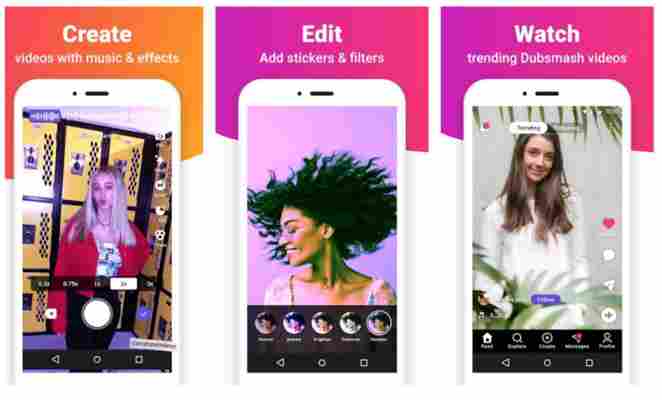 Of course, if you're a fan of short-form videos, you are familiar with Vine – the app that pretty much kicked off the genre when it was released in 2012. It was shortly bought by Twitter, who closed it down in late 2016. Now, one of Vine's founders has released Byte , to bring back a super-short video platform to the masses .
While TikTok allows you to shoot 15-second videos, Byte goes back to Vine's micro format with a cap of 8-seconds . Beyond that, the two apps are fairly similar, except that Byte doesn't quite yet have all of TikTok's excellent video-editing tools. As a newly released app though, Byte is constantly improving . It has already announced new features including " byte beats " (unique to the iOS version): mini audio tracks that are automatically adjusted to users' videos; Floaties , which are objects you can place into your camera's view and then record; and the ability to add and manipulate text on top of videos .
Byte's true differentiating factor is the ability to join different communities , which are basically video genres such as horror, comedy, and animation.
Android ; iOS
Dubsmash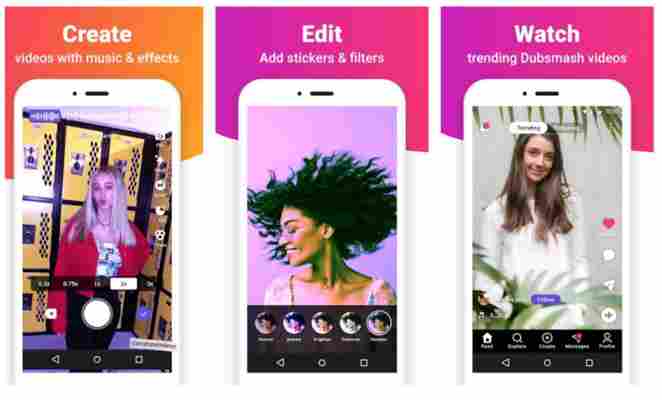 Most video-sharing apps start with the video portion of the process. You shoot a clip then you can juice it up with special effects, sounds and text. Dubsmash, a German company founded in 2014, takes the opposite approach. It contains a huge library of music clips and quotes from movies and elsewhere. So you basically start with an audio clip and then add your video , which usually consists of you lip syncing to the track. Filters and emojis help dress up your clips, and a newsfeed lets you see what's trending and what your friends have posted.
Android ; iOS
Triller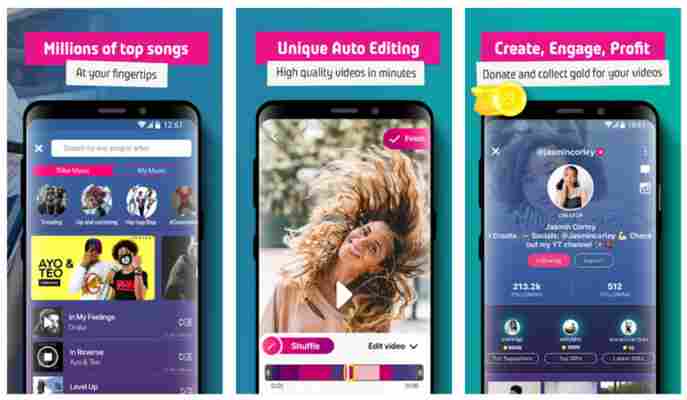 Like Dubsmash, Triller provides a treasure trove of songs to help inspire your video creations . And like TikTok, the platform allows you to record 15-second-long video clips. Where Triller sets itself apart is that it offers super-simple video editing at the push of a button .
Creating impressive videos is as simple as choosing a song, selecting which portion of it you'd like to use, choosing a series of video clips, and letting the software do the rest. It will stitch everything together for you into a professional-looking video that will make it seem like you truly know your way around more sophisticated video-editing software. Videos are represented by a color bar at the bottom and swapping out or reordering clips is as easy as swiping and dragging .
Triller also stands out because of its very impressive collection of songs and videos . Because the app has partnered with major music-production companies and other apps like Spotify, your choice of tracks is nearly limitless. Triller also features more than 100 filters that let you play with the look of your clips to an impressive degree.
Triller clips can be shared through the Triller platform, or they can be shared on other social media platforms like Instagram and Facebook, which has made it a tool used by a significant number of celebrities including Kevin Hart, Chance the Rapper and Rita Ora.
Android ; iOS
Instagram
While Instagram is commonly thought of as a photo-sharing platform, the fact is that there are thousands of users sharing videos there as well . While it doesn't really have the robust video editing tools of some of the other apps on this list, because of the popularity of the platform (can you say over 500 million daily active users?) it's well worth considering as a video-sharing tool.
Instagram also doesn't feature the limited-time function of many other video-sharing apps, so if you're looking to create longer-form videos, this is your app . You can upload clips under 60 seconds as "short videos" but longer vids can be uploaded to IGTV to share with your followers. And, because Instagram is free from lots of gimmicks like animal-head overlays and stickers, it's an excellent place to share videos with more serious or engaging content.
Android ; iOS
Likee
Likee, (which used to be known as "LIKE" before a rebranding) is the rocky road ice cream of video apps – which is to say, it's got a lot of stuff crammed into it . In addition to crazy filters that do everything from adding fireworks to a video to causing you to dematerialize in a bolt of lighting, the app also has a Tinder-like feature of letting you search for nearby video creators and sort them by gender.
The app also offers a pretty impressive face-swap option that lets you step into the role of your favorite actor with a touch. There are thousands of stickers and filters to choose from; " Makeup and Micro Surgery " functions that let you fine-tune your videos or bedazzle the people in them; a " Hair Color " feature that lets you try out any color you'd like on your 'do; plus a function known as " Supreme " that turns your photos into movies with a tap.
On top of this, the app allows for more serious content by showcasing instructional videos in addition to lip syncing and other entertainment-style videos. While the app might be overwhelming for some, if you're already familiar with video creation apps and want to take your abilities to the next level , Likee should get the job done.
Android ; iOS