Panasonic's new Toughpad JT-B1 bring the heavy-duty design of the company's Toughbooks to a 7in tablet, primarily aimed at businesses who require a small, powerful device for point of sale, logistics and even logging data at repair or manufacturing facilities.
Although small tablets appear to be a convenient way for businesses to give their staff instant access to point of sale or delivery tracking tools, most such devices' fragility means that companies could easily spend large sums on repair and replacement. It's here that JT-B1 stands apart from its rivals. The tablet is guaranteed drop and shock proof from heights of up to 1.5m, and is also water and dust proof, with a tough, slightly recessed screen that's designed never to hit the floor first. It's also designed to work at temperatures ranging from -10 to +50 degrees Centigrade. As well as helping to protect the tablet, the tablet's rubber edges are also meant to make it easier to grip with wet hands or gloves.
The engineering sample we got to try out was running Android 4.04 (Ice Cream Sandwich). We carried out our usual test of running the SunSpider JavaScript benchmark, which the B1 completed in a quick 1583.1ms – that's faster than Google's Nexus 7 and almost as quick as the iPad Mini. The dual core 1.5GHz Texas Instruments OMAP 4460 processor is clearly powerful, which is particularly useful to businesses that may wish to develop and roll out their own apps internally – an obvious advantage of using Android tablets rather than Apple's locked-down tablets.
The 7in 1024x600 capacitive touchscreen display, with an aspect ratio of 17:10, feels pleasingly large but the tablet, which measures 200x130x9mm, is still easy to hold in one hand, slip into a large coat pocket or attach to a belt, making it convenient to use in situations where a larger device would not be.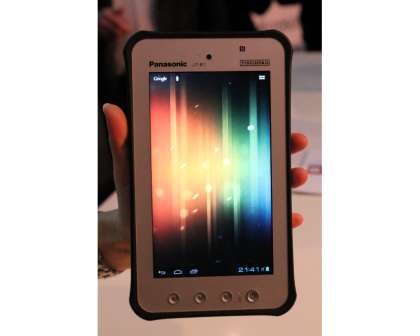 Although its hardened exterior makes it larger than most, this 7in tablet is still easy to hold in one hand
It weighs 544g, much of which is accounted for it its battery, which has a quoted life of around eight hours and is easily accessible for fast replacement if required. An ambient light sensor allows the table to carry out automatic brightness adjustment in order to maximise its battery life. Like other Touchpad devices, the matt screen is designed for maximum visibility even in brightly lit environments, with a 500cd/m2 brightness rating and low reflectivity.
As well as the touchscreen, the tablet has four physical function buttons, one for power and three of which can be assigned to an app or macro sequence of your choice. This means you can use them to provide quick access to mission critical apps, so your users don't have to fumble with software buttons when wearing gloves or covered in grime and can reliably carry out tasks with a minimal number of key presses.
Every port is sealed against water and dirt
The JT-B1 also has 1GB of memory, 16GB of flash storage, 1.3MP front and rear cameras and supports NFC. It'll be available with optional 3G support and is due out in March at an anticipated cost of around £750.