The Samsung Galaxy Fame is perhaps one of the most stylish budget Android phones around, as its smooth corners and tiny frame are incredibly well built and it's perfectly comfortable to use single-handedly. However, while the Fame may look like it has the making of a first class budget phone, the screen and the hardware inside it quickly reveal its more modest capabilities.
Its 3.5in screen not only has a fairly low 320x480 resolution, but its LCD display was also disappointing. We found that colours looked incredibly washed out, while its poor viewing angles meant we had to be looking it straight on to get the best image. Even turning it slightly to the side produced a considerable shift in contrast, and we could barely see anything at all when it was just lying on our desk.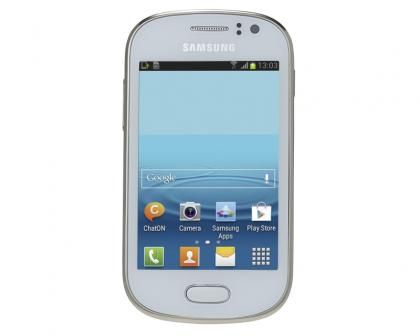 Naturally, we had to zoom in to look at desktop versions of web pages, but swiping round the page was anything but smooth. Text took a while to focus and become clear and it was very jerky when we came across an image. With such low resolution on offer, you can't fit much of a website on the screen at once. It was also slow to render, taking 11 for the BBC News home page, but it wasn't just web browsing we had trouble with.
Its single core 1GHz processor and 512MB of RAM were only just fast enough to cope with everyday tasks. It completed our JavaScript SunSpider benchmarks in a very sluggish 2,531ms when we used Chrome, but switching to the Dolphin browser brought this down to a more respectable, albeit still quite slow, 2,274ms. This puts it just ahead of the LG Optimus L3 II , but the Fame's capacity to play games was miles behind.
We had trouble with games, such as Temple Run 2, as the phone just wasn't fast enough to register our swipes across the screen and it failed repeatedly to turn our actions into onscreen movements. It coped better with 2D Flash games like Radiant Defense, but we were hoping for much more. It will need quite frequent charging, too, as its small 1,300mA battery lasted just 6 hours and 36 minutes in our video playback test with the screen set to half brightness.
The Fame runs a fairly standard version of Android 4.1.2, but Samsung has included a few unique apps and features to make it stand out from the crowd. ChatON, Samsung's social network app, comes pre-installed, and this can be used to communicate with different Samsung accounts on a variety of devices. You also get access to the Samsung Apps suite, but both of these features are quite fussy to use and are made almost redundant in the face of the vastly more extensive Google Play Store.
NFC is built in, and you can use it with S Beam to send files to other Samsung devices using Wi-Fi direct. All you have to do is tap the two devices together and choose which files you want to send. We tested with a Samsung Galaxy S4 and it worked perfectly.
Using the keyboard was more problematic. On the whole, we found it was very accurate and responsive despite its diminutive size, but diving into three separate screens to access symbols and punctuation was very tedious and slowed down our typing speed quite dramatically. Admittedly, the third screen is dedicated to emojis, but the rest of its layout is very fragmented and there's no option to customise the keyboard layout in the Fame's settings either.
Thankfully, there are certain workarounds to make typing a little less frustrating. The first is the return of Samsung's continuous input, which allows you to slide your finger across the keyboard to string letters together instead of tapping them out individually. This doesn't really alleviate the punctuation problem, but it certainly speeds things up.
Alternatively, there's also an option to swipe across the screen in order to switch between letters and symbols, but in practice this doesn't always work. We found it was rather hit and miss as to whether we successfully switched keyboard or just inserted whatever we happened to touch first, bringing us back to the problems we encountered earlier with the responsiveness of the touchscreen.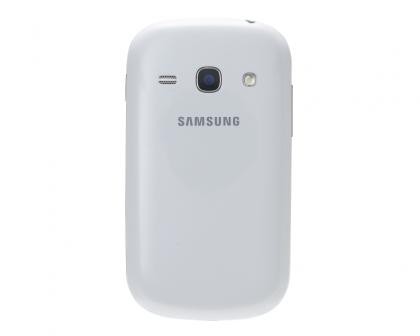 The Fame's 5-megapixel camera was marginally more promising, but much like the screen's weak colour representation, our test shots ended up looking very drab and dreary. Our outdoor shots had a good level of detail, but they were packed with small traces of noise, particularly when we focused on the sky. Our indoor shots also suffered from inaccurate colours, but we were pleased to see how well it coped in lower lighting conditions. Its flash picked out objects very cleanly when we turned the lights off and there was only a minimal amount of noise present in the background.
All that detail was lost, though, when we tried capturing video. Objects merged into simple patches of colour regardless of how much light was available and it struggled to pick out anything at all when we turned the lights off. It didn't have any problems with the light from our fan or keeping our train moving at a steady speed, but on the whole everything looked quite blurry and out of focus.
CONCLUSION
The Galaxy Fame has almost halved in price since we first reviewed it, as you can now pick one up for as little as £80 SIM-free from Carphone Warehouse. However, when the vastly superior Motorola Moto E costs just £10 more, the Galaxy Fame pales by comparison. Not only does the Moto E have a larger 4.3in 960x540 resolution display, but its processor is much faster.
What's more, Motorola's confirmed the Moto E will be getting an upgrade to Android 5.0 Lollipop as well, so you'll be able to use the latest version of Google's operating system rather than get left behind with the Fame's sluggish version of Android 4.1. If your budget can stretch to £150, then the 2nd Gen Moto G is an even better choice, as it has a 5in HD 1,280x720 display, a great 8-megapixel camera and a modern quad-core processor.
| | |
| --- | --- |
| Native resolution | 320x480 |
| | |
| --- | --- |
| CCD effective megapixels | 5-megapixel |
| | |
| --- | --- |
| Memory card support | microSD |
| | |
| --- | --- |
| Operating frequencies | GSM 850/900/1800/1900, 3G 900/2100 |
| | |
| --- | --- |
| Wireless data | GPRS, EDGE, HSDPA, HSUPA |
| | |
| --- | --- |
| Operating system | Android 4.1.2 (JellyBean) |
| | |
| --- | --- |
| Microsoft Office compatibility | none |
| | |
| --- | --- |
| Accessories | USB cable, charger |
| | |
| --- | --- |
| Price on contract | £20.50 per month, 24-month contract |
| | |
| --- | --- |
| SIM-free supplier | www.ebuyer.com |
| | |
| --- | --- |
| Contract/prepay supplier | www.orange.co.uk |
| | |
| --- | --- |
| Details | www.samsung.co.uk |