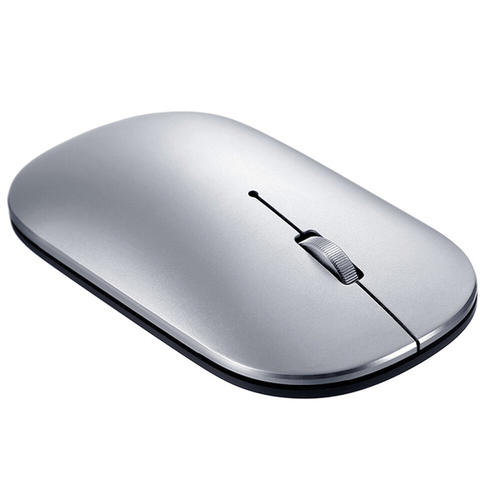 First of all, the first thing to choose a mouse is to look at its appearance. At present, only black color is available in HUAWEI store. Let's take a look at this black mouse. It has a streamlined appearance. The color is bright black with faint metallic luster. The mouse is close to the desktop. It has little burden on the wrist and is easy to move. Spraying process is adopted externally. Its rollers are made of metal. It gives people a comfortable touch. The streamlined design fits the palm well and the size is very suitable. The weight is about 58g. The weight of AA battery is about 23g. The overall weight after installing the battery is very suitable. This mouse looks durable. Judging only from the appearance, it meets the requirements of the vast majority of users.
Let's look at its internal configuration. This mouse is equipped with left and right keys and a scroll wheel key. IR infrared sensors are used internally. It has equipped with professional algorithms. Its sensor has high sensitivity. It is smooth to use even on the surface of glass. The mouse uses Bluetooth to connect to computer, users don't have to worry about losing links. It can be used with multiple computers. The internal battery is AA battery. This battery can last for a long time.
Next, let's take a look at using experience. How does this mouse work? HONOR bluetooth Mouse has an intelligent power-saving system. If the user does not use it, it will enter the standby state. If the user needs to use it again, you need to move the mouse. Within three seconds, the mouse will return to its working state. The user can press the Bluetooth button under the mouse, and it will resume work immediately. Users do not have the habit of turning off the mouse after using it. This will not have much impact on the service life of the battery. If the user buys the mouse, the seller will give an extra battery. This mouse has a fast response speed and accurate positioning. The touch experience of its keys is comfortable and the user experience is great. When the user presses the key, the tactile feedback and sound feedback given to the user are excellent.
Finally, the price. HONOR bluetooth Mouse is priced at £ 29. 99, which is a very pertinent price. It is equipped with IR infrared sensors and has a very strong housing. If users buy this mouse, it is worthy.