Super Slow Motion is the big feature on Sony's latest RX series cameras, the compact RX100 IV and the big zoom RX10 II. Both cameras are capable of shooting slow-motion video at an incredible 1000fps – that's four times quicker than the iPhone 6.
Once these hit the shelves this summer, you can expect a deluge of face-slapping, balloon-popping and fruit-exploding videos online, as owners rush to capture those moments that are usually gone in a blink of an eye. We got our hands on the new models today, for a quick play.
The new technology is possible thanks to Sony's latest sensor design – Exmor RS. Sony may have been struggling to keep up with its competitors when it comes to smartphones, but its camera sensors are used by many of them and for good reason. The new Exmor RS design was already announced back in November, but this new incarnation is the first big 1in sensor suitable for serious cameras.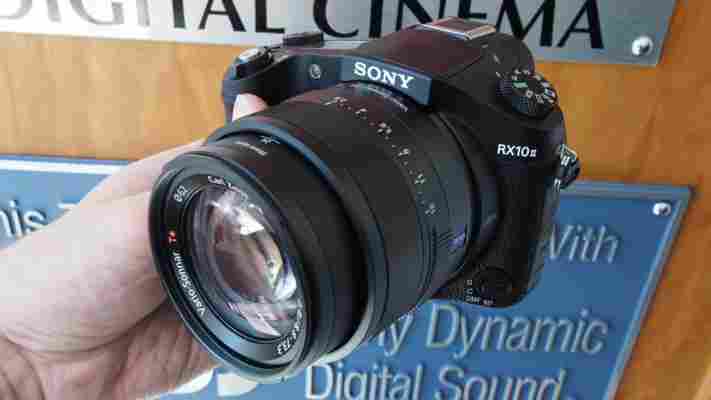 It's also the first to integrate a DRAM memory directly onto the imaging sensor. This provides 5x the data rate of previous models allowing the sensor to capture huge amounts of data, though only in short bursts.
Below you can see what this means in practice. The slow-motion capture is only available for very short bursts, either two or four seconds depending on the quality setting. At 250fps you can shoot for 2 seconds at near Full HD quality (1,824x1,026) in a standard 16:9 aspec t ratio, with the footage playing back ten times slower – that's 20 seconds of playback. Shooting at 1,000fps drops the resolution to 1,136x384, and skews the ratio to a very widescreen aspect. However you'll then get 40 times slow-motion.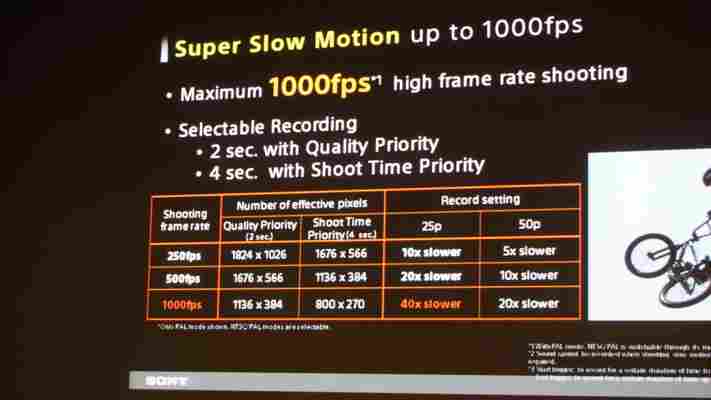 With such a small window of opportunity to contend with, Sony has come up with an ingenious shooting method. Switch the camera to the HFR mode (high-frame rate) and then press the OK button and it starts recording into a buffer, pressing the video button then capture the last 2 or 4 seconds to the memory card. Essentially you're picking the end of your clip, not the beginning.
It's a little awkward too get your around to begin with, not helped that once you press the button the camera flashes the word 'recording' on the screen, as though you're now shooting, rather than saying 'processing' or 'saving' which would be closer to the truth. You can shoot in a more traditional 'press to start recording' manner, but you'd better know exactly what you want to capture and how long for, first.
Dissapointingly, there wasn't anything fast-moving provided at the event to shoot in slow-motion. We did some panning shots of the assembled journos, and you can see the effect below. Example footage of bees taking flight and fruit being shot with arrows looked far more impressive, of course.
The fast memory on the sensor also means you can shoot continously at 16fps on the RX100 IV and 14fps on the RX10 II. These bursts continued for around 3 seconds before slowing, and will obviously vary depending on your memory card and quality settings, but we doubt anyone will be dissapointed. We didn't have access to the memory card slots for our hands-on wi th these pre-prodcutions models, so we cant be sure what cards were being used.
The new sensor also makes these the first Cyber-Shot cameras to shoot in 4K. Sony claims that it's sampling the whole sensor, without discarding any of the data, in order to minimise effects like moire (corsucating colours across repeating patterns). It can also shoot 17-megapixel stills while you're shooting in 4K, which is a pretty stunning achievement.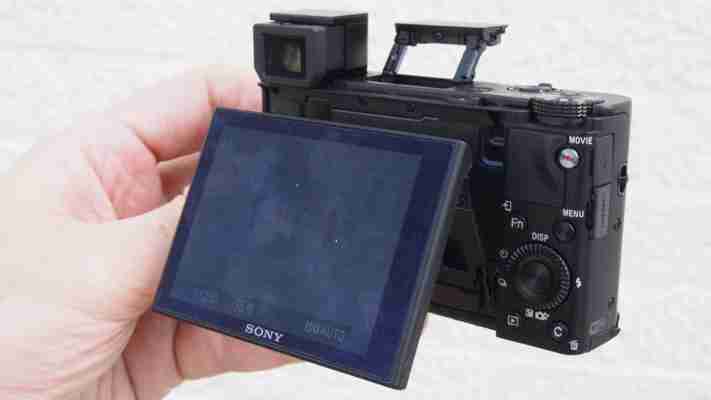 The sensor is also capable of a super-fast 1/32000 second shutter speed. This means you can shoot straight into the sun without over-exposing your shot. It worked well in practice, though we weren't allowed to take photos away with us, so again you'll have to take our word for it.
Other improvements include faster autofocus across both models, while the OLED viewfinder on the RX 100 IV has been upgraded to XGA, and very nice the pop-up viewfinder looks too. These cameras were already excellent in their previous incarnations, see our Sony RX100 III review and Sony RX10 review . The new upgrades make them better still. Sony looks to be continuing on its roll as king of the high-end compact. They'll be available this summer with pricing set at £850 for the RX100 IV and £1,200 for the RX10 II, though retailers are likely to have them slightly cheaper.