When I reviewed the Toshiba Tecra X40-D, I criticised its noise and lack of speed. I'd hoped for a little more than 55 in our benchmarks, and wondered if there were thermal issues that were cramping the processor's performance; while it was quiet in general use, the fans would occasionally kick in with abandon.
This refreshed version of the Tecra X40 comes replete with an eighth-generation Intel Core processor and an abundant 32GB of RAM. The result? A much stronger score of 70 in our benchmarks – and this time the fan noise was much less conspicuous. If you're looking for a machine that can number-crunch on the move, your employees won't be disappointed.
READ NEXT: The best laptops you can buy
I emphasise employees because, unlike the Dell XPS 13 with its consumer aspirations, this laptop is all about business. Even ignoring its conservative dark blue finish, consider all the security layers on show: the touchpad integrates a fingerprint reader, there's an IR camera for Windows Hello, and Tosh adds its own layer of encryption via its BIOS and a TPM 2 module. Naturally, Windows 10 Pro is at the helm, so you have the option of BitLocker for full-drive encryption as well.
Buy now from Toshiba
Perhaps surprisingly for a machine targeted at businesses, the Tecra X40-E includes a touchscreen. I'm not convinced about this, in part because the screen doesn't fold back 180-degrees so you can't use it as a giant tablet to scrawl upon. There are counter-arguments – perhaps your sales team uses a quotation tool that works best with finger prods – but only you will know if you'll put it to good use.
If you're a creative agency, though, forget about this Tecra. An average Delta E of 6.3 is way above the 1.5 or below anyone requiring colour accuracy would hope for. Likewise, its 58.2% sRGB gamut coverage reveals that it won't reproduce all the colours necessary for photo-based work.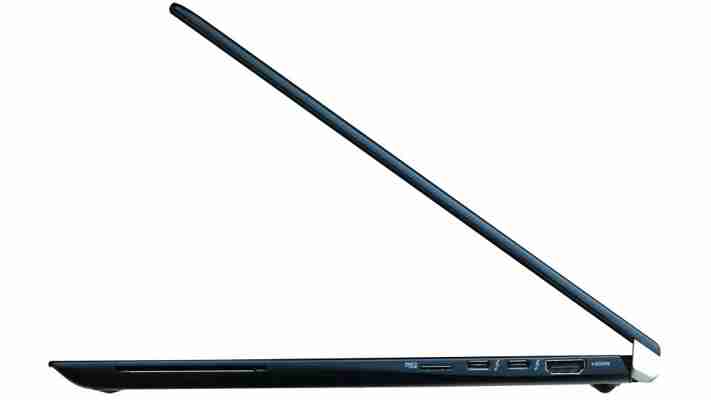 Nevertheless, if you pump the screen up to its maximum 251cd/m ² brightness then 90% of people won't notice its technical shortcomings. It's true that an 886:1 contrast ratio isn't the best either, but again this is only something you'd spot if watching a moodily shot film and wanting to see what was happening in the shadows.
The Harman Kardon -branded speakers are capable of adding atmosphere to films, and can even accurately reproduce fine vocal performances (Björk's It's Oh So Quiet in my test). Naturally, bass is missing, but that's an inevitable characteristic of any laptop's built-in speakers, let alone a machine that measures 16.9mm thick.
It's a light little machine too, weighing 1.24kg when I put it on our scales. While rivals such as the Dell XPS 13 are more compact, you can sling this well-made laptop into your bag without worrying that it will add much of a burden. Note its full complement of ports, too: two Thunderbolt 3-enabled USB Type-C connectors on the right together with a full-sized HDMI output, a microSD slot and, over on the left, an ever-helpful USB Type-A port and 3.5mm jack. You should get a full day's use out of the battery too. Even with the top-end specification, which will have some effect on power draw, it lasted 7hrs 11mins in our video-rundown test.
Buy now from Toshiba
Toshiba Tecra X40-E review: Verdict
So should you buy a Tecra X40-E? Although I wish the screen were better, Toshiba does very little wrong here. I haven't gone into depth about the keyboard, for instance, because it's a fine example of its type, while build quality is top notch – exactly what you'd expect from a Toshiba business laptop.
The specification as tested is expensive, at £1,699 exc VAT, but Toshiba claims that final prices of the X40 series will start at £799 exc VAT. For a business laptop of this quality, that's a good starting price, so the final buying decision will come down to whether you can find the right specification for the right cost. One thing's certain: the Tecra X40-E is a solid upgrade on the X40-D and will be a huge upgrade on what your employees are currently using.