Valve has continued its week of news announcements by revealing Steam Machines, the first prototypes of the long-awaited gaming hardware previously known as Steambox .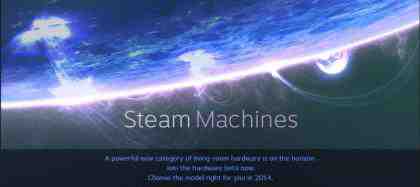 The launch, which was posted to the Steam store last night, will see Valve's own prototype device launch later this year to a very select group of beta testers, followed by a larger rollout in 2014 from selected partners.
Each Steam Machine console should be powerful enough to play the latest games and will run the SteamOS Linux-based operating system, ensuring gamers won't need to splash out on a Windows license key just to play PC games.
Valve is being typically vague when it comes to hardware specifics and even design, only saying that it is working with multiple partners to bring a variety of Steam Machine hardware to market next year. We don't even know what the final device will look like, or if Steam Machine will be its final name.
In the meantime, Valve's own hardware will go out to 300 lucky testers before the end of the year. To be in with a chance, you need to sign up to the Steam Universe community group , accept the hardware beta terms and conditions , have at least 10 Steam friends, a public community profile and play games with a gamepad on Big Picture mode.
With one more reveal set for Friday at 6PM, we could be about to find out what a Steam Machine controller will look like, or something else altogether. Be sure to check back to get the latest as it happens.