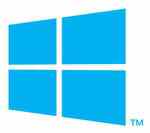 Most of the customization and system settings of Windows 8.1 can be accessed via the PC Settings menu. But to open this menu you need to go through a tedious process: open StartScreen, display the Charms Bar, click on the Settings Charm and then on Change PC Settings. Here's a simple trick to have the PC Settings permanently displayed in Windows 8's taskbar.
First you need to enable the display of Windows Store apps on the taskbar. Right-click on the taskbar > Properties. Tick the Show Windows Store apps on the taskbar checkbox and click on Apply > OK:
Go to PC Settings using the usual procedure and immediately press the Windows key to go back to the StartScreen. Click on the Desktop tile to access your desktop. The PC settings icon will be displayed in the taskbar, right-click on the latter > Pin this program to taskbar:
That's it, your one-click access to the PC Settings menu has been created.