The Stylus SX445W is designed as an inexpensive all-in-one for users who need to do only the occasional printing and scanning. Like most modern MFPs, the SX445W has a wealth of stand-alone features, which you can access via a colour LCD screen on the front of the printer. You can scan to a memory card or associated PC, make copies, print photos from a memory card, and configure a Wi-Fi link to your network; you can also connect the MFP via USB.
Everything works well enough, but the menu system is ugly, with dull orange-and-grey icons. Manual print head alignment requires you to select the best section of a test print, but at least this can all be done using the printer's integrated screen, rather than calling upon users to do it via driver software on their PC.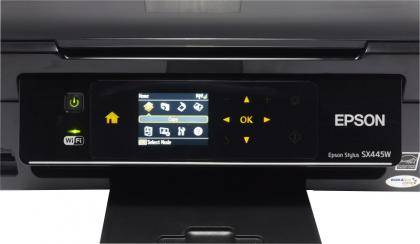 Photo printing is painfully slow, but the results are at least worth the wait. Our test prints had smooth shading, realistic skin tones and fairly accurate reproductions of pale colours such as skin tones. This is particularly impressive given that the SX445W uses pigmented inks. There's a very slight magenta tint, something we've seen before from Epson photo printers. However, the effect is consistent and you can adjust the driver's colour settings in the advanced settings tab.
Document printing has been a weak point of previous budget Epson MFPs, but the SX445W produces sharp, clear mono text, albeit at a slowish 5.9ppm. We were also pleased with its performance on our image-loaded colour documents, which had accurate and smooth colours. Once again, though, speed is a weak point; colour prints emerged at just 1.6ppm - that's roughly a 15 minute wait for 24 pages.
Text is legible at even small font sizes, although close examination reveals that it's a little wobbly around the edges. Blisteringly fast 16.7ppm draft text is pale grey, very jagged, and not worth bothering with for any except the most basic of proof-reading jobs. Mono prints aren't too expensive, coming in at 2.4p per page. However, a page of mixed black and colour printing is a little steep at 8.2p. A 6x4in photo on Epson Premium Glossy paper costs 23p.
The 1,200dpi scanner does a brilliant job of capturing fine detail at high resolutions; low resolution text scans are also sharp and legible. Colour and shading is also accurate. We're fans of Epson's scanner interface, which in advanced mode gives you great control over sharpness, colour and image correction. Less demanding users can opt for one of the basic modes, which make it easy to scan without poring over scores of options. ABBYY FineReader Sprint OCR software is included, which turns scanned documents into editable text or even searchable PDFs.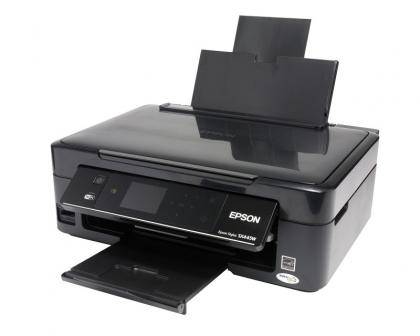 The SX445W isn't a bad printer but it's slow and its text quality isn't the best around. Photos are very good for a budget device, though. In fact, this MFP's price is one of its most compelling selling points. At just £64, it's great value, particularly if photo and scan quality are a priority. Otherwise, the HP Deskjet 3050A costs less and prints faster.
| | |
| --- | --- |
| Maximum native print resolution | 5,760x1,440dpi |
| | |
| --- | --- |
| Max optical resolution | 1,200x2,400dpi |
| | |
| --- | --- |
| Quoted speed, mono A4 | 33ppm |
| | |
| --- | --- |
| Quoted speed, colour A4 | 15ppm |
| | |
| --- | --- |
| Time for two 10x8in photos 1.0 | 13m 7s |
| | |
| --- | --- |
| Time for six 6x4in photos 1.0 | 24m 5s |
Physical and Environmental
| | |
| --- | --- |
| Standard printer interfaces | USB, 802.11b/g wireless |
| | |
| --- | --- |
| Optional printer interfaces | none |
| | |
| --- | --- |
| Noise (in normal use) | 37dB(A) |
| | |
| --- | --- |
| Maximum paper size | A4/legal |
| | |
| --- | --- |
| Maximum paper weight | 255gsm |
| | |
| --- | --- |
| Standard paper input capacity | 100 |
| | |
| --- | --- |
| Maximum paper input capacity | 100 |
| | |
| --- | --- |
| Duplex (code, cost if option) | No |
| | |
| --- | --- |
| Printer technology | piezo inkjet |
| | |
| --- | --- |
| Supported operating systems | Windows XP/Vista/7, Mac OS X 10.4.11+ |
| | |
| --- | --- |
| Other inkjet features | 6.3cm touch-panel |
| | |
| --- | --- |
| Other inkjet options | none |
| | |
| --- | --- |
| Consumable parts and prices | £9.49 |
| | |
| --- | --- |
| Price per colour A4 page | 5.8p |
| | |
| --- | --- |
| Quoted life of supplied black cartridge | 190 pages (ISO/IEC 24711) |
| | |
| --- | --- |
| Quoted life of supplied colour cartridge(s) | 250 cyan, 150 magenta, 230 yellow pages (ISO/IEC 24711) |
| | |
| --- | --- |
| Quoted life of supplied photo cartridge(s) | N/A |
| | |
| --- | --- |
| Supplier | http://www.amazon.co.uk |
| | |
| --- | --- |
| Details | www.epson-europe.com |
| | |
| --- | --- |
| Number of ink cartridges | 4 |
| | |
| --- | --- |
| Maximum number of ink colours | 4 |
| | |
| --- | --- |
| Maximum number of cartridges | 4 |
| | |
| --- | --- |
| Quoted photo durability | 40 years |
| | |
| --- | --- |
| Quoted photo durability source | Wilhelm Imaging Research |
| | |
| --- | --- |
| Full scan area preview | 11s |
| | |
| --- | --- |
| A4 document at 150dpi | 15s |
| | |
| --- | --- |
| A4 document at 300dpi | 19s |
| | |
| --- | --- |
| 6x4in photo at 600dpi | 34s |
| | |
| --- | --- |
| 6x4in photo at 1200dpi | 2m 24s |
| | |
| --- | --- |
| Time for single A4 mono copy 1.0 | 47s |
| | |
| --- | --- |
| Time for single A4 colour copy 1.0 | 53s |
| | |
| --- | --- |
| Time for 10 A4 copies using feeder 2.0 | N/A |
| | |
| --- | --- |
| Borderless printing | up to A4 |
| | |
| --- | --- |
| Direct (PC-less) printing | Yes |
| | |
| --- | --- |
| Supported memory cards | SD, SDHC, SDXC, MMC, Memory Stick Pro |
| | |
| --- | --- |
| Maximum number of copies | 99 |
| | |
| --- | --- |
| Max mono fax resolution | N/A |
| | |
| --- | --- |
| Fax memory (maximum mono pages) | N/A |
Basic Specifications
Quoted Speeds
Tested Print Speeds
Physical and Environmental
Paper Handling
General
Buying Information
Print Quality
Tested Scan Speeds
Tested Copy Speeds
Photo Features
Copy Features
Fax Features