Smartphone games can easily be broken down into two groups. The first are those that are designed from the ground up for a touchscreen interface, such as Angry Birds or Fruit Ninja. The second are games that are based on long-standing popular gaming genres, such as driving or shooting games; which often use onscreen, virtual buttons to stand in for a traditional joypad.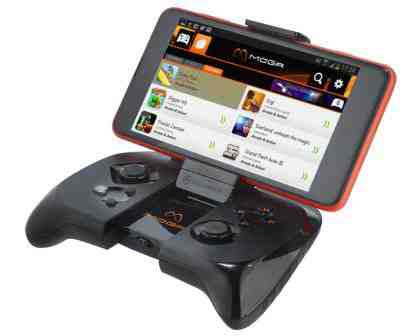 That second group has been stymied by such controls, with the lack of feedback making them far harder to play than they should be. To solve this problem there are now numerous products aimed at Android gamers, one of which is this portable joypad for your smartphone, the Moga Pocket.
The Moga Pocket is a Bluetooth device that connects to your handset wirelessly. For use on the go it has an adjustable grip that will hold practically any smartphone securely, it goes up to 87mm so only the huge Samsung Galaxy Mega will trouble it. the only downside is that the grip doesn't angle back far enough for our liking, so you have to tilt the controller slightly away from you to get the phone's display square on to you. Alternatively, connect your smartphone to your TV via HDMI and you can play from the sofa.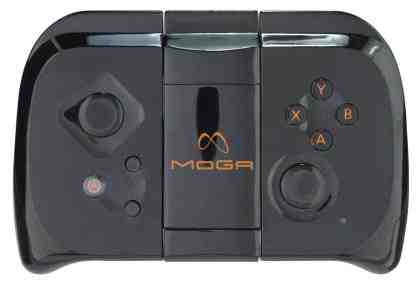 It's easy to setup thanks to the Moga Pivot app. This prompts you to turn on bluetooth, and reminds you to turn on the controller. The design of the pad itself is pretty good, it's comfortable to hold for quite a while and the buttons, though small, have click distinctly when pressed. The analogue sliders are reminiscent of the old Sony PSP's, they're OK, but not a patch on proper analogue sticks, there's are also a pair of shoulder buttons.

The Moga Pocket runs for a claimed 18 hours off two AAA batteries, though that will depend on what batteries you're using of course. Keen gamers will want to grab some rechargeable batteries of course. It's a shame there isn't a built-in battery you can charge over USB, like your phone.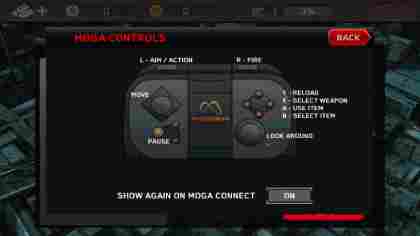 Some popular games detect you're using the Moga and bring up a controls diagram
The app automatically detects any Moga-compatible games already on your Android device. These are then listed in the app, so you can tell which games work and which don't. You can browse for new compatible games through the app and it will then pass you through to the appropriate store to buy them. Cleverly, it will even offer different stores, so it offers Modern Combat 4 directly from Gameloft for $4.99, as well as from Google Play at $6.99, smart stuff.
Offering you multiple stores with comparative prices is a masterstroke
Moga's competitors are numerous, we've already seen the similar SteelSeries Free, then there's the WikiPad and of course Nvidia's Project Shield device. However, they all have the same problem, there simply aren't enough high-quality, console-style games supported for our liking. The notable lack of support for some big titles, such as Real Racing 3, doesn't help either. Thankfully, a relative lack of top titles isn't as huge a problem to a compact and fairly cheap device such as the Moga Pocket, compared to say a dedicated device such as Project Shield.
The Moga Pocket undoubtedly expands the number of games you can enjoy on your smartphone and it's also really easy to use, with a great app and good developer support. It's the best Android controller to buy for those who want to play console-style games on the move, though we prefer the controls on the SteelSeries Free if you're simply looking for the best little controller. If you're happy to carry something bigger around, or just want a controller for playing games at home, have a look at the larger Moga Pro, which has proper analogue sticks and is more ergonomic.
Details

Price
£26
Rating
****