Panasonic is adding to its interchangeable lens camera line up with two new lenses. This time around the company is introducing a premium line of lenses, known as Lumix G X, and Panasonic showed us various graphs to demonstrate that they'll be even sharper than the existing Lumix G models.
Both new models incorporate Panasonic's advanced optical stabilisation, known as Power O.I.S. Both also use a motorised zoom rather than the usual manual, mechanical lens ring. We're assured that the zoom and focus motors are silent and smooth to ensure high quality video recording.
The 14-42mm model has the same focal length and aperture ranges as the existing 3x zoom kit lens commonly bundled with the G3 but it's about half the weight and less than half the size when not in use, thanks to the ability to collapse down when switched off.
This could be the perfect lens for those who are torn between existing options of a non-zooming pancake lens and a bulkier zoom lens. It should be available immediately for around £369, or bundled with the GF3 where it'll be known as the GF3X. We're told to expect the GF3X to cost about £130 more than the GF3 with the 14mm kit lens.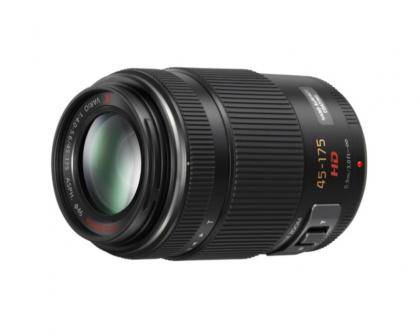 The other model covers focal lengths from 45mm to 175mm (90-350mm equivalent). While it's by far the bigger of the two, it's still extremely compact for a telephoto lens, weighing in at 210g, and seems reasonably priced at around £400.