Compact systems cameras (CSCs) are here to stay, with nearly all the leading manufacturers now selling some kind of compact camera with interchangeable lenses. The K-01 has no trouble standing out from the crowd, though, and couldn't be further removed from the Pentax Q . The Q is by far the smallest and lightest CSC on the market, and the K-01 is the biggest.
DESIGN
There's a good reason for the K-01's bulk, though. Whereas other CSCs use lens mounts that are designed for compactness, the K-01 uses Pentax's well-established K Mount, as used by its SLRs. The distance between the mount and the sensor, known as the flange back distance, is fixed for each lens mount, and in this case it's 45mm. This is much bigger than Micro Four Thirds' 19mm or the Q's 9mm, and explains the K-01's chunkiness.
Using the existing SLR K Mount makes the K-01 a lot chunkier than most CSCs
We're tempted to say that this is at odds with the basic premise of a CSC, but using the K Mount brings one big advantage. While most CSCs have around half a dozen compatible lenses, there are 34 Pentax K Mount lenses, and lots more from Sigma, Tamron and others. The benefit for anyone who already owns lots of these lenses is obvious.

However, the range of lenses available is massive
The camera's bulk is offset by the simultaneous launch of a new pancake lens. It protrudes just 9mm from the camera body, and the overall size and weight of the camera and lens could just about be described as coat pocket sized. The lens's 40mm focal length translates to 60mm in 35mm terms, which isn't ideal for landscape photography but is well suited to portraits and candid street photography.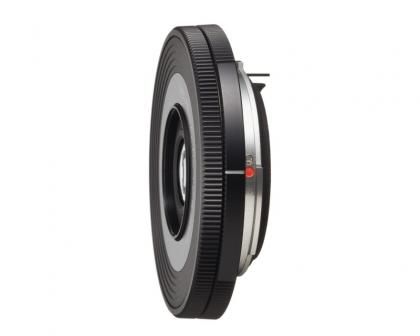 The new pancake lens is a marvel of engineering
Pentax would probably prefer that we dwelled less on the K-01's bulk and more on its striking appearance. It's the work of designer Marc Newson, a man who's clearly not bogged down by convention. Although the K-01's control layout and functions are familiar, it looks like no other camera we can think of.