You're at the grocery store. You've got your cart full and are at the checkout lane when suddenly you hear a voice behind you. You turn. To your surprise, you see your friend rushing towards you, waving his arms with a fistful of coupons gripped in his hand.
That friend is Honey.
What is it?
Honey is a free extension for Google Chrome, Safari, Firefox, Opera, and Edge, and its sole job is to find any relevant or applicable coupons for what you're purchasing. It then tacks them onto your order and saves you the money. Honey looks up those coupons quietly and automatically, and you'll honestly forget it's even there until you're right at checkout.
So what's this like in action? Let's say, for example, that you're on Amazon about to order a new deck of cards. Browse until you find it, then add it to your cart as usual.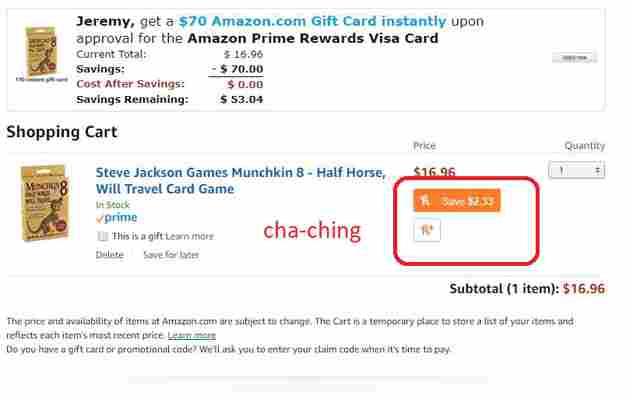 Once you're in the cart ready to buy them, a little Honey blurb (like the one pictured above) will appear directly below the item's cost. Honey scans through any potential coupons pertaining to your order, and automatically shaves off the most money it can. Why spend extra money, right?
This isn't just for Amazon.com either. Honey's got you covered for discounts with over 100 online stores . That includes things like Gamestop, Safeway, Timex, Motorola, Vonage, even Dominos. If there's a coupon for it, Honey will find it and instantly apply it.
How can you install it?
Right here. Go through the quick process and Honey will appear above your bookmarks bar in your Chrome browser. Once you see it, you're done. If you so choose, you can click on the Honey icon at the corner of your browser if you want to see what stores are trending, or if you want to share codes that you find with the Honey community. Here's a step by step on how to install the extension:
Once it's set up, Honey does the work for you from here on out. No need to click anything extra or subscribe or anything.
This sounds too good to be true
If you're wondering how Honey makes any profit, here's the short answer: In some cases, when you use a coupon code or earn Honey Gold , the extension earns a small commission from the store you're buying from. Some of those earnings go to members.
So there you have it. There's a free extension available right now that's always looking to save you money. Get out there and download it.
Related Articles
6 alternatives to eBay for selling items online
10 apps to protect your online shopping
12 hidden features on Amazon that will save you money
If you love shopping, you need these 6 apps