It's 2019 and we all live on our smartphones . While battery life has improved tremendously from model to model , nothing lasts forever, and that can be a real problem for people who forget to charge their phones or are away from home for an extended period (which can be an unintended circumstance this time of year when weather is dicey). Seeing a battery level under 20% can be especially scary if you're relying on your smartphone for GPS or for emergency phone calls.
A portable charger can be a literal lifesaver, but there are tons of models to sift through before you find the one that's right for you. Lucky for you we've done the research so you don't have to! Check out this list of our top five portable chargers.
5 best portable phone chargers
5. AUKEY Power Bank 26500mAh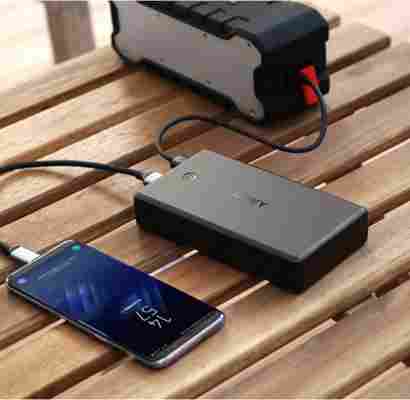 This AUKEY Power Bank is a terrific model that's compatible with a variety of devices, including Nintendo Switch , Android phones , iPhone XS (and XS Max), iPhone 8 , and pretty much anything you can fit with a standard USB cable – which conveniently comes in the package. This device is four times faster than your conventional charger, but the increased battery size does make it a little heavy. is a little more expensive as a result. It's also one of the more costly options on our list.
4. Tzumi – PocketJuice Endurance 8000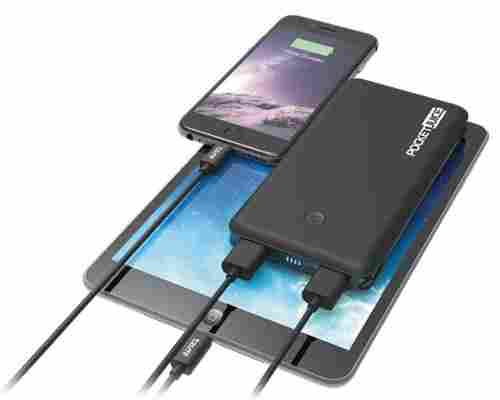 Selling for a third of the price of the AUKEY Power Bank, the Tzumi is also a much lighter option, making it ideal to put in your pocket or toss in your purse before leaving the house. Like the AUKEY, the Tzumi is compatible with practically every USB-powered device, meaning your smartphone can stay connected and ready to work while you're traveling or on the go. The 8000 mAh lithium-polymer battery pack will even see you through up to around four separate charges for your phone ! Its two ports allow for two devices to be charged simultaneously, and the QuikChip technology regulates power discharge in order to keep your device from overcharging or overheating. Built with convenience and safety in mind, the Tzumi is high quality at a low price.
3. Anker PowerCore 10000 Portable Charger
One of the smallest and lightest models on the market, Anker delivers their usual great quality with this more portable device. Featuring a compact design, the Anker PowerCore 10000 is perfect for mobility and its 10,000mAh capacity is enough to charge your smartphone several times over – enough to power two whole phones with battery still to spare. Additionally, the PowerCore 10000 is integrated with a MultiProtect safety system to boost its security and reliability even further. The system boasts a combination of eleven safety features that work together to provide the ultimate protection for your devices and your charger. If you like the Anker brand (which we do) and want a less expensive model that provides peak power and accessibility on the fly, this is an excellent model.
2. Aibocn 8000mAh Portable Charger
If you're looking for ease of use, flexibility, and fast charging all at the lowest cost possible, the Aibocn is your number one choice. For under $20, the Aibocn 8000mAh gets the job done efficiently and consistently. The Venus power bank supports over three times faster charge speeds (for iPhone) than the normal 1.0A input backup charger, and supports Apple, Google, and Samsung products. Like the Tzumi (but cheaper), the Aibocn will also automatically shut down if a short-circuit or overload output occurs during charging.
1. Anker PowerCore 20,000
It should come as no surprise that Anker holds the highest place on our list, and the PowerCore 20,000 just might be the best they've got. To start off, the 20,100mAh battery inside is huge, meaning this will cap out your phone's battery multiple times before needing a recharge. The charger totally refueled a Galaxy S8 in just 95 minutes, and did the same for an iPhone 8 Plus in 98 minutes . Not only that, but the battery was large enough to do so up to seven times , and the dual-port functionality allows for two devices to be charged at once . While it's one of the more expensive models, you're definitely getting the most bang for your buck with the Anker PowerCore 20,000.
So which charger is the best?
While the Anker is our personal favorite, it really comes down to what you're looking for in your product . Do you favor heavy and pricey but worth its weight in quality? Or maybe something cheap and lightweight that you can use on the fly should you forget to charge your phone the night before. Let us know which charger is your favorite (or if it's one we didn't include in our list) and stay tuned for more gear, gadgetry, and great deals!
This article contains affiliate links, which means Softonic may receive some compensation if you choose to make a purchase.
More from Softonic
5 best gadgets for the bedroom
4 best gadgets for your garden
5 best gadgets for your garage
12 must-have gadgets for every traveler